eFab Configurator by Thomas & Betts Simplifies Prefabricated Rough-In Assembly Design
New online tool enables efficient design and order processing.
---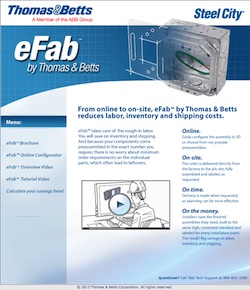 The new eFab Configurator by Thomas & Betts is an online tool that simplifies custom designing of Steel City prefabricated rough-in electrical assemblies, which substantially reduces onsite labor, as well as inventory and shipping costs.
"Labor cost is the greatest expense for electrical contractors working in commercial construction," said Chad Smith, director, product management at Thomas & Betts. "It gets particularly costly when experienced electricians assemble thousands of components used to support and protect the complicated electrical systems found in commercial and institutional buildings. By using the eFab Configurator online tool to design complete assemblies, that labor is eliminated and the assemblies are shipped directly to the job site for immediate installation."
The eFab Configurator improves efficiency by enabling the design, quotation and requisition of in-wall, rough-in electrical assemblies to be managed online, while the preassembly of components can reduce onsite labor costs by more than 50 percent.
Material handling and inventory costs are minimized when products with project-specific packaging and labeling are delivered directly to the job site, while palletized deliveries reduce packaging and waste.
Other advantages include enabling the requisition of only quantities needed for the job without the need to meet minimum order requirements, which often result in leftover inventory, while special eFab assemblies compliant with the American Recovery and Reinvestment Act (ARRA) and Buy-America reduce overall material costs by up to 40 percent.
A cloud-based online interface enables the contractor to design custom prefabricated assemblies with 3D modeling to ensure the accuracy of the design. An unlimited number of configurations can be stored in the contractor's online library, accessible through the cloud by colleagues for reference and requisition.
Additional functions include quote generation and submission, layout drawings, a complete bill of material, and 3D image and DXF file downloading.
Cost savings can be tallied for each assembly through the Labor Savings Calculator at tnb.com/SteelCityeFab. This tool is particularly useful when considering that wall and ceiling installations comprise 60 to 70 percent of the cost of an electrical contracting project.
For more information about the eFab Configurator, visit www.tnb.com or call (800) 816-7809.