Starborn Launches New Small Pack Program
Small pack Tapcon and E-Z Ancor fasteners are now available to distributors.
---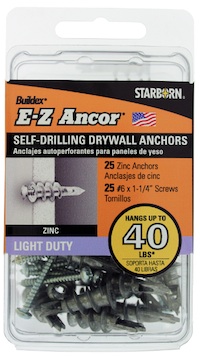 Starborn Industries has introduced a new small retail pack program for two well-known ITW Buildex products: Tapcon concrete anchors and E-Z Ancor self-drilling drywall anchors. Previously, small retail packs of Tapcon and E-Z Ancor products were available only through big-box retailers.
With this new program, Starborn has expanded upon the company's decades of experience distributing Buildex products in order to make small packs of Tapcon and E-Z Ancor products available for the first time in Starborn's primary market channel - professionally oriented building supply stores.
Tapcon and E-Z Ancor are original patented ITW Buildex products that each created and defined new product categories when they were first created.
The Starborn line of Tapcon and E-Z Ancor products is available in both small blister packs and medium-sized kit boxes.
Starborn is proud of its long and successful association with ITW Buildex, and looks forward to growing this partnership while servicing the important market of professionally oriented building materials suppliers, where quality and reliability are key. For more information on the availability of Tapcon and E-Z Ancor products from Starborn please visit www.starbornindustries.com or call 1-800-596-7747.