Flat CBI In Q3 Bodes Well for Commercial
Commercial construction backlog figures indicate the downturn has stopped.
---
As the economy gradually recovers, nonresidential construction spending remains unchanged—a good sign the downturn in the industry has stopped, according to the Construction Backlog Indicator (CBI) produced by Associated Builders and Contractors (ABC).CBI also remained nearly unchanged between the second and third quarters of 2013.

"The most recent CBI reading suggests much of the growth next year is likely to occur after the first quarter of 2014, and only if a successful resolution to lingering federal budgetary issues emboldens decision-makers," said ABC Chief Economist Anirban Basu. "Even with successful negotiations in Washington, D.C., ABC expects publicly financed segments to continue to be hamstrung by reluctant state and local government budget officials."

Despite the fact the nation is in its fifth year of recovery, nonresidential construction spending remains roughly 20 percent below the cyclical and all-time peak achieved in October 2008. While the most recent CBI is 2.8 percent higher compared to a year ago, it suggests the long-awaited rapid acceleration in nonresidential construction spending will not occur in the very near term.

"For the past year, businesses and consumers grappled with higher tax rates, rising interest rates, a federal shutdown, and the uncertainties associated with health care reform, sequestration and debt default. In October, the International Monetary Fund downgraded the 2013 U.S. growth forecast from 1.7 percent to 1.6 percent," Basu said "As if headwinds emerging from the federal government were not enough, the uncertain resolution of Detroit's bankruptcy has induced more cautious behavior among certain large and similarly situated American cities, which continues to impact the outlook for U.S. infrastructure investment, "Basu said.

However, there is optimism in today's CBI release. "Even slow growth leads to construction opportunities," Basu said. "Ongoing recovery steadily produces lower vacancy rates, higher rents and more comfortable lenders. However, growth also results in higher interest rates and ABC believes this factor will begin to serve as a more meaningful speed governor in late 2014 or in 2015."
CBI Map of Regions and Backlog Months
Third Quarter 2012 v. Third Quarter 2013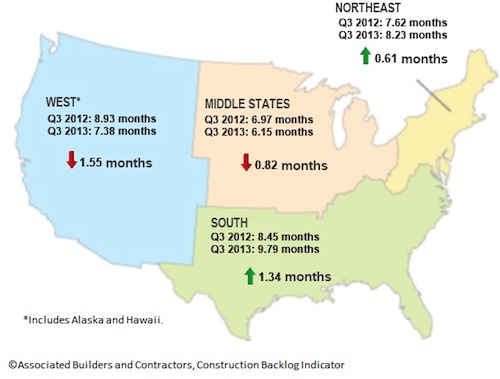 REGIONAL HIGHLIGHTS
On a quarterly basis, backlog declined in three out of four regions, with the largest quarterly decline occurring in the Northeast.

The South was the only region to experience expanding backlog during the third quarter, with the lengthiest backlog of any region at 9.8 months. States such as Louisiana, Georgia and Florida are experiencing significant improvement in construction industry conditions.

Backlog has expanded in the Northeast and South over the past year, but declined in both the West and Middle States. This is likely due to softening industrial activity in certain Middle States over the past year and softening infrastructure investment in the West.
REGIONAL ANALYSIS
"Construction momentum has become increasingly divergent within regions," Basu said. "For example, the Middle States continue to be associated with the shortest average backlog at 6.15 months; however, construction activity has been robust in North Dakota, Iowa, Wisconsin and Minnesota.

"The South and the West are likely to experience the most expansion in backlog going forward due to economic momentum in California, Washington, Idaho, Arizona and Nevada, more stable housing markets in Georgia and Florida and continued expansion of energy production in Oklahoma, Louisiana and Texas," Basu said.

INDUSTRY HIGHLIGHTS
Backlog expanded only for the commercial/institutional segment in the third quarter, which was driven by a combination of increasing work from the nation's health care system and from rising consumer outlays.

Infrastructure saw backlog decline for a third consecutive quarter, primarily due to still-wounded state and local government budgets along with erratic decision making in Washington, D.C.

Average backlog declined in the heavy industrial category, in part due to a weak global economy that has frustrated exporters. Manufacturing capacity utilization stands at just 76.1 percent, which is too low to permit aggressive industrial facility buildout.
INDUSTRY ANALYSIS
"CBI continues to reflect the U.S. recovery's dependence on consumer credit and spending," Basu said. "This translates into construction projects in several categories, including shopping centers, lodging, distribution and fulfillment centers.

"On the other hand, states and local governments continue to remain defensive in terms of capital budgeting, in part because of uncertainty regarding the level of future support from the federal government and pressures related to underfunded pensions and retiree health care costs," Basu said.
SOURCE: ABC.org