MCP Supply Seeks Dealers for Paver Edging Spikes
Company has openings for east coast distributors.
---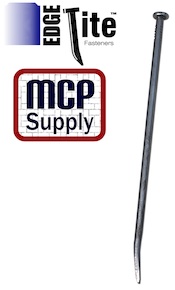 MCP Supply is seeking highly qualified dealers on the east coast for the Edgetite 10" Paver Edging Spike.
The 10" Paver Edging Spike is known as "the spike that works," for installers. Data collected from calls to the supplier office and large repeat orders from businesses show that the Edgetite spike is simply one of a kind.
The spike has many exceptional benefits, including:
A modified tip, which forces an angular trajectory during installation
Being 45 percent less weight than the conventional 10" gauge spike
Supporting green technology, with reduced transportation costs
Pinching paver edging at the paver point of contact
Increasing paver project strength and also reduces shifting
Reducing frost heaving
Visit www.mcpsupply.com for more information about becoming a dealer of the Edgetite Spikes.