IronPlanet Kicks Off 2014 with Four-Day Auction
Auction set for Jan. 28-31 will feature nearly 2,000 construction and related items for sale online.
---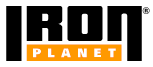 IronPlanet announces it will host the industry's first major auction of 2014 on Jan. 28-31, featuring nearly 2,000 construction and related items for sale online.
"IronPlanet is dedicated to providing customers with a fast and convenient way to acquire and dispose of used heavy equipment," said Greg Owens, CEO, IronPlanet. "Our four-day January sale provides the industry's first opportunity of the year for buyers worldwide to purchase equipment and sellers to translate underutilized machines into cash – all through a trusted online marketplace."
The four-day online auction features equipment from 48 U.S. states, plus Canada and Mexico. The equipment lineup includes aerial equipment, compactors, cranes, graders, excavators, loaders, tractors, trucks, plus attachments, parts, cars and boats.
The complete auction schedule is now available at www.ironplanet.com for buyers to view and place bids. New items are being added to the lineup daily.
Buyers can bid on equipment conveniently from their home, office or on the road using their PC, tablet or mobile phone.
IronPlanet also offers detailed inspection reports that provide a thorough description and pictures of the equipment's condition and features. These reports are backed by the company's exclusive IronClad Assurance buyer protection program, which ensures that the reports are a true representation of the condition of the equipment, giving buyers confidence to purchase machines online.
IronPlanet is now accepting consignments for the next big auction on Feb. 26-27. Interested sellers can contact IronPlanet Customer Care at 888-433-5426 to add their equipment to the sale.
About IronPlanet
IronPlanet is a leading online marketplace for used heavy equipment. Our sellers achieve more profitable sales through low transaction costs and better price realization through a global audience of buyers. Our guaranteed inspection reports and exclusive IronClad Assurance enable buyers to bid with a high degree of confidence. IronPlanet is backed by Accel Partners, Kleiner Perkins Caufield and Byers, Caterpillar, Komatsu and Volvo. For more information, visit www.ironplanet.com.