Enerpac Releases New Workholding Catalog
Features one-stop-shop selection, easy navigation and new products.
---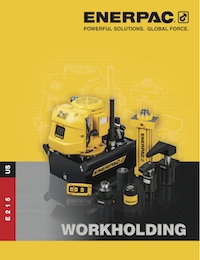 Enerpac announces their new E215 Workholding Catalog featuring 232 pages of valuable information on their full range of high pressure hydraulic workholding devices, accessories, and power units. Enerpac Workholding is used to provide powerful clamping and positioning solutions for every type of manufacturing process.
This catalog represents a culmination of over 50 years of experience in the workholding industry, and demonstrates Enerpac's leadership and commitment to the hydraulic workholding market.
Besides presenting one of the broadest range of hydraulic workholding products and solutions, the catalog showcases several exclusive key technologies for the workholding industry. These exclusive key technologies include the Collet Lok® clamping line with Depressurized Holding Technology, SafeLink wireless pressure monitoring, offering machine tool up-time protection, and a newly upgraded power unit section featuring a new line-up of easy to use hydraulic pumping solutions.
The catalog is available free to interested parties. It is currently available in English, Spanish, and Portuguese language versions.