Wacker Neuson Crowns Trowel Challenge Winner at World of Concrete
David Ray of Molzahn Construction, Worland, WY takes top prize.
---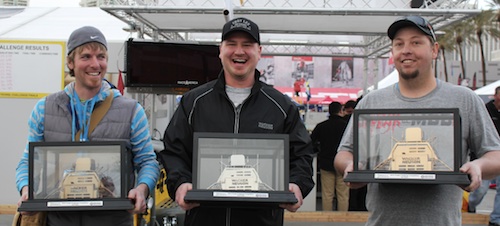 Wacker Neuson's sixth annual TROWEL CHALLENGE® competition held at the World of Concrete in Las Vegas was once again exciting with less than one second between the first and third place finishers' final time.
Each year, the manufacturer's competition draws large crowds to watch over 150 trowel operators test their ride-on trowel operating skills as they maneuver around an obstacle course. The grand prize is a custom 48-inch CRT 48-35VX ride-on trowel powered by a special Vanguard Big Block V-twin engine.
Wacker Neuson held the trowel challenge at its outdoor booth during the annual concrete contractor trade show, January 21-24, 2014. Preliminary competitions were held Tuesday through Thursday during the show. The finishers with the top 10 fastest times from the preliminaries advanced to the finals held Thursday, January 23, 2014. The top 10 finalists each had one run through the course and that time was added to their preliminary time.
FIRST PLACE:
David Ray, Molzahn Construction, Inc., Worland, WY
Winning combined time: 52.781. Ray advanced to the final competition in second place with a qualifying time of 25.679 and with his final run time of 27.102, he drove off with the grand prize; a 48-inch ride-on trowel and a gold painted scale model trophy of a Wacker Neuson ride-on trowel.
SECOND PLACE:
Greg Geiger, On Demand Concrete Solutions, Edmonton, Alberta, Canada.
Combined run time: 53.012. Geiger came into the finals in sixth place with a qualifying time of 25.982. His final run time of 27.03 moved him into first place for the next few runs, but he came up just short, taking home the silver ride-on trowel trophy.
THIRD PLACE:
Douglas Garber, B Concrete, Inc., Brookville, OH
Combined run time: 53.092. Garber's qualifying time was 25.876 and his final run time was 27.216. The difference between second and third place was only .08 seconds. Garber took home the bronze trowel trophy.
Every year the Wacker Neuson TROWEL CHALLENGE competition draws more and more fans to watch the battle between the best finishers in the industry. Thousands of World of Concrete spectators watched the challenge throughout the three days and toured Wacker Neuson's exhibit that showcased a complete line of concrete and construction products.
Bryan Birdwell to conduct concrete prep course
Also during the 2014 World of Concrete, Wacker Neuson invited finishers to attend their next Technical Academy Industrial-Commercial Floors Prep Course. The next course, held at Wacker Neuson's training center in Menomonee Falls, Wisconsin, February 25-26, 2014 is taught by Bryan Birdwell, an industry leader in the industrial flooring process.
Birdwell is a 28-time golden trowel award winner and also a world record holder for the flattest floors. Birdwell has partnered with Wacker Neuson's professional training team to create a prep course for the ACI Specialty Commercial/Industrial Concrete Floor Finisher certification.
For more information on the course or to sign up, please visit www.wackerneusontech.com