Grainger Customer Show Draws 15,000 Attendees
Grainger reported more than 15,000 attendees and 600 suppliers at the show in Orlando, Fla., which ran Feb. 10-11.
---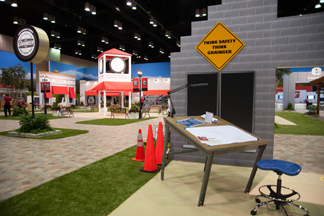 The event brought together customers, suppliers and Grainger team members nationwide to discuss emerging trends in areas such as inventory management, e-commerce and safety.
"Our customers are problem solvers who face two crucial challenges each day," said Deb Oler, vice president and general manager, Grainger Brand. "They are charged with keeping their businesses up, running and safe, and when something breaks, fixing it fast. Each year, they need to do this with fewer people and less money. Grainger gets this and we are committed to having our customers' backs. The Grainger Show highlights the latest solutions, services and products, designed to help customers save time and money, while staying safe."
In its tenth year, the 2014 event is the largest Grainger Show to date. The event included more than 600 supplier booths, along with:
Seminars
Show participants can attend Grainger-led sessions, designed to highlight the latest solutions and services on topics such as inventory management, safety, e-commerce, sustainability and emergency preparedness.
Networking Sessions
These sessions provide show attendees with a unique opportunity to discuss their experiences and best practices in tackling challenging projects, while increasing productivity and saving money. Session topics include everything from manufacturing, healthcare and hospitality to inventory management, safety and emergency preparedness.
Grainger Town
Attendees will experience Grainger's services and solutions in a separate, interactive setting called Grainger Town. The more than 20,000 square-foot exhibit features Grainger's latest solutions to solve business issues. Customers will learn about inventory management options in the "General Store," safety in the "Building Under Construction" and sustainability in the "Public Works" building. In addition, Grainger's e-commerce solutions – which include everything from mobile applications to order management systems – are highlighted in the "e-Commerce Store."
"Our customers take on challenges everyday – some new, some not so new – with the same determination and quiet confidence that makes them the pros they are," said Oler. "We understand that. After more than 85 years of being there for our customers, we've seen our fair share of challenges right along with them, and we have the experience and knowhow to serve them best. When a customer comes to Grainger, they know we have them covered, regardless of the challenge, which is at least one less thing they need to deal with during the day."