MK Diamond Issues New eCatalog
Electronic catalog is viewable online or as a PDF.
---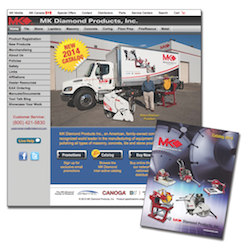 MK Diamond Products' new eCatalog, available on their website, features their full line of products and allows users to interactively flip through pages like a printed catalog and perform filtered keyword searches. It can also be easily downloaded to computers as a PDF file or emailed or printed.
The MKDiamond.com website eCatalog features new products for 2014 including the MK-IXL 5" Vacuum Shroud for dust control when grinding concrete and masonry. The MK-20 series of concrete saws has expanded to include gas and electric versions as well as a new propane saw with a Kohler engine.
New diamond blades have been added to the selection with the expansion of glass cutting blades for glass and mosaic tiles. The metal cutting Diamond X diamond blade line expanded with the addition of a silent core cut-off blade line.
MK Diamond has also expanded its online presence on Facebook, Twitter and You Tube. Give them a "like" at www.facebook.com/mkdiamondproducts. You can also access MK Diamond's mobile web site with your smart phone. All of these are touch points for you to keep up with the latest company news.
For more information call 800 421-5830 or visit www.mkdiamond.com.