Paslode Celebrates 50 Years
Introduces commemorative nailer, end-user sweepstakes and dealer events.
---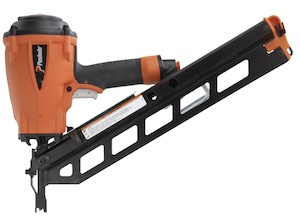 Over 50 years ago, Paslode transformed the construction industry with a product that made contractors more productive than ever before: the world's first pneumatic framing nailer. Prior to this game-changing industry innovation, framing contractors did their work with hammers, nails and plenty of elbow grease.
The introduction of the first pneumatic framing nailer revolutionized how new homes are built by significantly decreasing construction time, reducing jobsite fatigue and boosting profitability.
To kick-off the year-long celebration of this major milestone, Paslode is introducing a commemorative 50th Anniversary Special Edition Pneumatic Framing Nailer. Boasting Paslode's signature orange hue, this Special Edition Framing Nailer has a bold appearance that matches its standout performance and the jobsite durability that users expect from Paslode.
Combined with Paslode's RounDrive Framing Nails or Hot Dipped Galvanized Nails, the 50th Anniversary Special Edition Framing Nailer helps boosts productivity by minimizing downtime and rework.
Adding to the excitement of the anniversary, Paslode is launching a sweepstakes that offers monthly drawings for free Paslode tools through December 2014. Starting this summer, professional framers will have the opportunity to enter online as well as on-site at dealer locations and winners will be announced monthly.
In addition, Paslode will host dealer events throughout the year to celebrate the 50th anniversary first-hand with industry partners. The events, which kick off in early summer, will feature giveaways, promotions, product showcases and drawings for free Paslode tools. More details about the sweepstakes and a schedule of dealer events will be announced.