Lowe's Q1 Sales Rise 2.4 Percent Year Over Year
Earnings rise 15.6 percent over same period last year.
---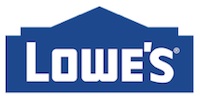 Comp store sales grow 0.9 percent.
Lowe's Companies, Inc. has reported net earnings of $624 million for the quarter ended May 2, 2014, a 15.6 percent increase over the same period a year ago.
Diluted earnings per share increased 24.5 percent to $0.61 from $0.49 in the first quarter of 2013.

Included in the above reported results are charges related to long-lived asset impairments, which reduced pre-tax earnings for the first quarter by $23 million and diluted earnings per share by $0.01.
Also included in the above reported results is the impact of a lower tax rate in the first quarter. The lower tax rate, primarily the result of a settlement of prior year tax matters, contributed $0.04 to diluted earnings per share.
Sales for the first quarter increased 2.4 percent to $13.4 billion from $13.1 billion in the first quarter of 2013, and comparable sales increased 0.9 percent.
"We executed well during the quarter, despite an unexpectedly prolonged winter in many areas of the country," commented Robert A. Niblock, Lowe's chairman, president and CEO. "While poor weather dampened traffic and negatively impacted performance of exterior categories, results for indoor categories were solid. We effectively aligned inventory, staffing and marketing resources by climatic zone to best serve customers' needs. Performance has improved in May which, together with our strengthening execution, gives us the confidence to reaffirm our sales and operating profit outlook for the year."
Delivering on the commitment to return excess cash to shareholders, the company repurchased $850 million of stock under its share repurchase program and paid $186 million in dividends in the first quarter.
As of May 2, 2014, Lowe's operated 1,836 home improvement and hardware stores in the United States, Canada and Mexico representing 200.7 million square feet of retail selling space.
Learn more at www.Lowes.com/investor