Makita Wins Sustainability Award
Call2Recycle Leader in Sustainability Award goes to top industry recyclers.
---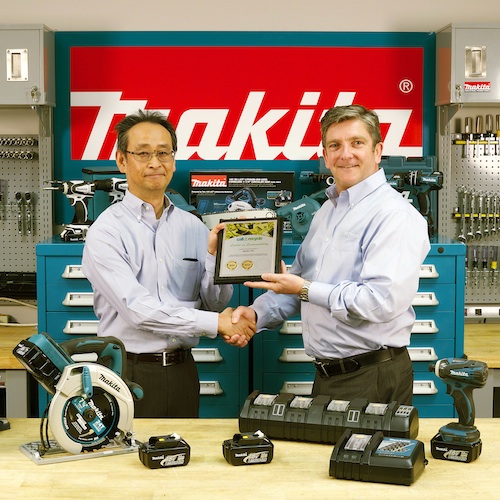 Makita U.S.A. President Hiroshi Tsujimura (Left) accepts the 2013 Call2Recycle Leader in Sustainability Award from Sean Burchill, Western Account Manager for Call2Recycle. The award recognizes outstanding efforts in battery recycling.
Award is latest milestone in Makita's leading role in sustainability
Makita, an innovation leader in cordless power tool technology, has been recognized for outstanding battery recycling efforts with the Call2Recycle Leader in Sustainability Award.
Call2Recycle, North America's first and largest battery collection and recycling program, created the Leader in Sustainability Award for companies that maintain a strong commitment to sustainability by steering hazardous materials away from local landfills. This is the second year Call2Recycle has distributed the award.
Makita created the 18V Lithium-Ion cordless tool category in 2005 with its groundbreaking 18V LXT Series, and today offers the world's largest 18V Lithium-Ion cordless tool line-up with slide-style batteries. For Makita, a long-time partner in battery recycling efforts, it is the second straight year of recognition.
"Leaders in Sustainability demonstrate how organizations can have a positive environmental impact," said Sean Burchill, Western Account Manager, Call2Recycle. "Thanks to dedicated organizations like Makita, over 11 million pounds of batteries were diverted from landfills through the Call2Recycle program in 2013."
A Leader in Sustainability
Since the mid-1990's, Makita has worked with Call2Recycle to develop new ways to collect, package and ship used batteries at the end of their life cycle to recycling centers.
"As Makita delivered more and more cordless power tools for contractors, we recognized the need to recycle batteries at the end of their life cycle," said Mario Lopez, product manager, cordless tools, Makita U.S.A. "Makita was one of the first power tool manufacturers to join these efforts, and we pioneered battery recycling programs through our service centers. We're proud of all the efforts, and remain committed to working with Call2Recycle on this important initiative."
More Batteries Diverted from Waste Stream
Overall battery collection rates through Call2Recycle have increased during the past decade, which can be attributed to increases in both general awareness of recycling and availability of collection sites. At the same time, Makita has expanded the number of cordless solutions, so contractors are "cutting the cord" with more Makita cordless tools on jobsites than ever before.
Making it Easy to Recycle
Each Makita battery carries the Call2Recycle Battery Seal, which includes a toll-free phone number to locate a battery collection site. In addition, Call2Recycle battery recycling information is available at makitatools.com/batteryrecycle and in all Makita instruction manuals.
"When batteries reach the end of their life cycle, users can bring them to a Makita Service Center," said Stan Rodrigues, manager of the regulatory & compliance department at Makita U.S.A. "They can also go online or call to find a Call2Recycle collection box in their community. Call2Recycle has made it super easy to recycle."
For more information, call 800/4-MAKITA (800/462-5482) or go to makitatools.com.