Freud Launches New Website
New site delivers more educational tools and enhanced user experience.
---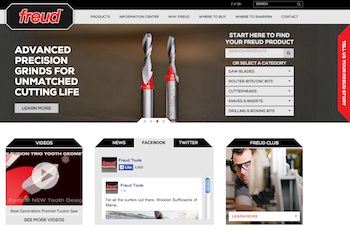 Freud America, Inc. announced today the launch of their new and improved website at www.FreudTools.com, featuring a dramatically enhanced design with premium look and the latest in web technologies, making it easier for woodworkers to navigate and quickly find critical information to make informed purchasing decisions.
The new website includes an easy-to-use product search and selection capability with drill-down filtering engines so that visitors can easily locate products by machine, product size/diameter, material and product category.
In addition, the new site provides visitors with the ability to "Learn More" and "Compare" products when researching the solution that best fits their needs. It also includes an "Information Center," which provides all product support, catalogs, posters as well as videos and FAQs.
Other exciting features include:
Buy Now Button and Dealer Locator Tool: Visitors are able to view in-stock product at dealers closet to their desired location
Certified Freud Sharpening Service Centers: An interactive selector map that pinpoints nearby sharpeners who have agreed to adhere to the high standards required to maintain "like new" tool performance
"Tell Us Your Freud Story": A destination where customers can provide comments, communicate their experience or provide details on the latest projects they have been working on with Freud products
Social Media Integration: Facebook and Twitter plug-ins located on the homepage where company and product updates will appear on a regular basis as well as the ability to share product information across all major social media channels
Freud e-Newsletter: A rich content of how-to articles and videos, as well as downloadable woodworking projects and plans
"We are thrilled to unveil the redesigned Freud website, which delivers the ultimate user experience for the woodworker and industrial cabinet shops," said Russell Kohl, President & CEO of Freud America. "Visitors will be amazed at how easy it is to find what they are looking for and to learn about Freud's full-range of products. Our new website offers a one-stop-shop on all information regarding Freud and our products. And we're not done! In the near future, more enhancements will be made to further make our website best in class and enrich our customer's learning experience."
Launching late Fall is "Freud Club," a subscription-based club designed to inspire and educate the woodworker. "Freud Club" will be a great place to learn about products and projects with woodworking and technical experts, view training videos and access special deals from Freud.
In order to continuously tailor its website to meet its customer's needs, Freud requests visitor feedback by completing a brief survey at http://www.freudtools.com/index.php/survey.
For more information, visit www.freudtools.com.