San Francisco 49ers' "Field of Jeans" is Almost Complete
New $1.2 billion stadium is nearly ready for prime time.
---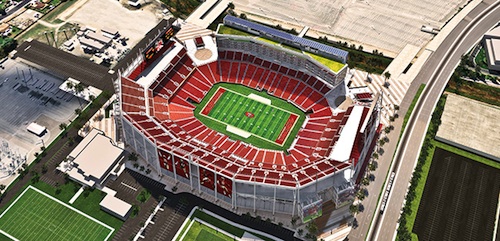 Levi's Stadium is set to open in August 2014. The stadium will be the new home of the San Francisco 49ers, and will also serve as one of the world's best outdoor sports and entertainment venues. The $1.2 billion venue will have 1.85 million square feet, seat approximately 68,500 and will feature an expected 165 luxury suites and 8,500 club seats.
There are still "thousands of activities to finish" before next month's ribbon-cutting ceremony for the $1.3 billion Levi's Stadium in Santa Clara, Calif. However, much of the remaining work is testing, to make sure the bathrooms and beer concessions work as planned.
The San Francisco 49ers' new 68,000-seat stadium with a grass roof — nicknamed the "Field of Jeans" — was built in 26 months using 7,000 union workers. It used 90,000 cubic yards of concrete, 75,000 tons of steel and features 1,186 solar panels.
Click here to read the entire story.
Source: San Francisco Chronicle