Strong Man Offers Custom Branded Barrier Patches
Custom patches are cost-effective and perfect for job site branding.
---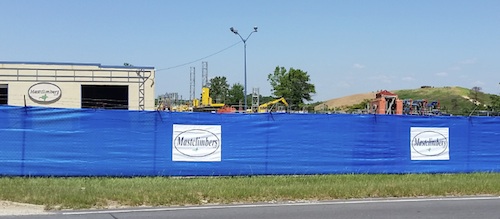 Long known for top-of-line weather and debris enclosures, Strong Man Safety Products now offers customers a new and powerful branding tool: customized, branded patches. The patches, which come in a multitude of colors, are already drawing rave reviews from clients.
"This is one of the simplest and most cost-effective ways we've found to promote our company and our brand," says Mike Pitt, Mastclimbers LLC.
Here's how it works. When you order a privacy screen or any dense mesh, patches with your customized messaging are sent to the fabricator who sews the patches onto the screen. The barrier and patches are then delivered as a finished product. (Alternatively, customers may also attach the patches themselves.) What messaging goes onto the patches is up to you, but ideas for customization include:
Company Name and Logo
Project Information
Contact Information
Project photos
Messaging – Wish people a nice day. Alternate patches with your logo with patches that feature humorous or inspirational quotes. Remind passerby to use caution around the job site.
The choices are endless. Customized patches offer great value and are extremely cost-effective, especially when compared to having printing done on an entire roll. Now you control the game and can change, update, add, delete and tailor your message to your audience.
Strong Man continues to be your one-stop shop for all your barrier — and now your branding — needs. Contact a member of the Strong Man Sales Team at 1-800-950-6999 or email sales@strongman.com for details. Visit www.strongman.com.