MAX USA hires new East-Midwest regional sales executive
John Parsons will be based in Illinois.
---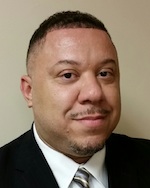 John Parsons
MAX USA is pleased to announce John D. Parsons as its new East Midwest Regional Sales Executive.
John has over 10 years of experience in the sales of premium Building Products and Power Tool Accessories through Distribution into commercial and residential market segments. John has a successful track record of driving business through job site demonstrations and contractor events.
In addition, John has been able to expand the market share of his distributors by discovering new applications not currently pursued. His ability to train, demonstrate products and analyze markets has allowed for profitable revenue growth and expansion of market share.
John has been married for 12 years. He and his wife Helen reside in Bolingbrook IL and have one child.
You can reach John anytime at (618) 406-8302 and jparsons@maxusacorp.com.
MAX USA CORP. is headquartered in Mineola, NY, and is owned by MAX CO., LTD. which is headquartered in Tokyo, Japan. MAX is recognized as a market leader in quality manufacturing of pneumatic nailing tools for over 70 years. MAX has several divisions employing more than 2,000 people worldwide including over 200 R&D engineers. Learn more at www.maxusacorp.com