PIP to be honored by American Cancer Society
PIP's owners and employees will be honored at annual Gala of Hope, April 18, 2015 in Saratoga Springs, NY.
---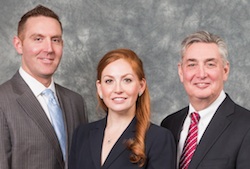 Left to Right: Protective Industrial Products' Joseph Milot III, Bridget Milot, Joseph Milot Jr.
The American Cancer Society (ACS) will honor the Milot family and Protective Industrial Products (PIP) employees at its annual Gala of Hope on Saturday, April 18, 2015, at the Hall of Springs in Saratoga Springs.
Together, the Milot family and the PIP employees have actively raised awareness and money through community volunteerism, corporate support and ACS special events.
"On behalf of my daughter, Bridget, and my son, Joey, along with the entire PIP family, we are truly privileged and humbled to be recognized with this award and pledge to continue to support the vital programs, services and mission the American Cancer Society offers for those touched by cancer," said Joseph Milot, President, Protective Industrial Products.
"PIP has been a long-standing and incredibly generous supporter of the American Cancer Society at the local and national levels, with donations of in-kind services, support and local leadership," said Michele Mack, Senior Manager, Distinguished Events, at the American Cancer Society. "This award is a testament to their dedication, compassion and support of all those affected by cancer."
The American Cancer Society's Gala of Hope is an annual black-tie event that raises money and awareness of the organization's lifesaving mission and programs. Last year, hundreds of area business and community leaders attended the gala. It raised more than $230,000 for the local fight against cancer through corporate and media support and individual ticket sales.
In 2015, guests of the event will be treated to a spectacular evening including a champagne reception, live music by the New York Players' City Rhythm, an exquisite gourmet dinner, phenomenal silent and live auctions, and an opportunity to engage business leaders and major donors in the lifesaving mission of the American Cancer Society.
Tickets are $300 per individual and $600 per couple. Tables are $3,000. The American Cancer Society is seeking additional corporate sponsors for the event. Sponsorship opportunities include recognition for businesses and individuals in the community. All funds raised benefit the American Cancer Society to help those in need. For more information about the event, to purchase tickets, or be a sponsor, please call Michele Mack at 518.220.6932 or email michele.mack@cancer.org.
The American Cancer Society has more than 3 million volunteers and is the nation's largest nongovernmental investor in cancer research, contributing more than $3.4 billion. To learn more, visit cancer.org.
Protective Industrial Products, Inc. is a leading supplier of Hand Protection and Personal Protective Equipment to industrial distributors globally. PIP's mantra is "Bringing the Best of the World to You" by providing the highest value safety products available to workers in the Industrial, Construction and Electrical industry. PIP strengthens its value proposition by also offering its products in the most efficient and flexible manner while building long-term relationships with its distributors. Additional information about PIP is available at www.pipusa.com.