Bon Tool issues 2015 master catalog
Contains nearly 6,000 products and over 200 new items.
---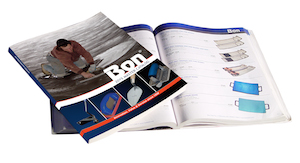 Bon's line of contractor-grade hand tools and materials for the building trades has been expanded to nearly 6,000 products and includes over 200 new items. The full product line is featured in Bon's 2015 Master Catalog.
The newly 448-page catalog is Bon's largest yet, representing one comprehensive resource of hand tools for the building trades. The large selection of tools available at Bon include tools for masonry, concrete and decorative concrete finishing, concrete restoration, drywall, interior construction, floor covering, asphalt, roofing general construction and more.
New products of interest span the trades including a Keyway Groover, Pony Screed, Leveling Pins and a Dual Roll Terrazo Roller for concrete; Applicator Strip Brush, Curb Roller and Patch Roller for asphalt; new Rubber Stucco Rollers for plaster work; and new Poly Mortar Tubs and a Heavy-Duty Silicone Grout Bag for the masonry trade.
From the invention of masonry guides nearly 60 years ago to the introduction of the first-ever stainless steel Bullet Groover, Bon Tool Co. remains committed to the development and improvement of products for today's contractor.
See a digital version of the catalog on Bon's website at www.bontool.com or call the sales department at 724-443-7080 to request a free copy.