Fasco America reorganizes territories for improved customer service
Increases national regions and territory managers to six.
---
True to its parent company's 100 plus years of manufacturing experience and design innovation, Fasco America strives to provide you with the industry's most extensive product selection, new solutions for your fastening needs and - importantly - friendly, proactive customer service.
The people bringing you that service are the members of Fasco's superstar sales team. Fasco now has six Sales Territory Managers spread out across the United States. These Territory Managers are Terry Brady, AJ Trull, Chad Giese, Michael Turner, Miguel Zepeda and our newest team member, Gary Ward.
Fasco has also made some minor adjustments to its sales territory geographies to better serve you. See the map below for the new territory information: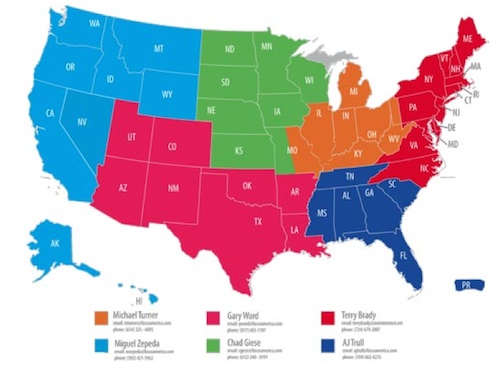 Learn more at www.fascoamerica.com