Nail Gun Depot Pulls Trigger, Fires off 15th Anniversary Celebration
Tool and fastener distributor reflects on 15 years of success – announces plans for future growth.
---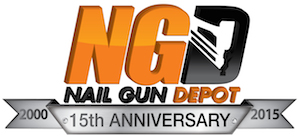 Nail Gun Depot, an international e-commerce retailer of nail guns, staplers and screw fastening systems, is celebrating 15 years of service to construction, renovation and manufacturing trades. Launched in 2000, the company boasts a selection of nearly 2,500 products – one of the largest online inventories in the fastening industry.
Founded as the online branch of a family-owned brick and mortar in Cincinnati, Nail Gun Depot remains family-run – though its staff has multiplied several times in size. The company remains an active member of the Specialty Tools & Fasteners Distributors Association (STAFDA), serving a diverse portfolio of customers that represent nearly all continents of the globe.
In celebrating 15 years of service, the company has announced several initiatives to prepare for expansion. Among key opportunities for growth, Nail Gun Depot plans to launch a refreshed, mobile-optimized website. The company forecasts an official launch for the new site in mid-to-late 2015.
Other initiatives include the re-launch of Nail Gun Depot's "Nail Gun Network" blog, product line expansion, and special anniversary promotions and giveaways tied to the number 15 - culminating in a summer giveaway featuring the "Bleed Orange Bundle."
Phil Burkhart, Chief Operating Officer at Nail Gun Depot commented, "This is an exciting time for us, not only celebrating 15 years of service, but also welcoming several opportunities to prepare for 15 years of additional growth. Building an easier to navigate, more informative site with several features unique only to the Nail Gun Depot brand demonstrates our continual commitment to industry-leading customer service and support – a cornerstone for our corporate identity."
For additional information on Nail Gun Depot's 15th anniversary celebration, you can visit www.NailGunDepot.com.