Five more days until CNC Piranha Fx Kickstarter campaign ends
Woodworking CNC routing system that can 3D Print and Laser Engrave is still available on Kickstarter - for the next five days.
---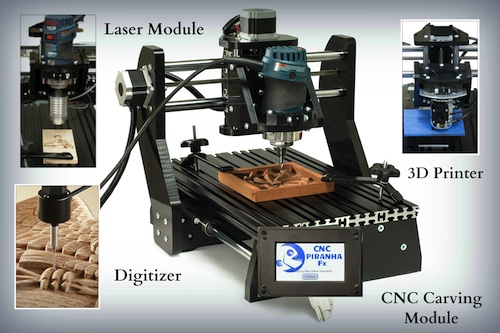 The CNC Piranha Fx, a woodworking CNC routing system that can also 3D Print and Laser Engrave is still available on Kickstarter - for the next five days.
Woodworking and maker enthusiasts still have a chance to pre-order this machine now that it has been funded. After the Kickstarter campaign ends, people may have to wait until the end of the year to get a unit and at different pricing and product configurations. CNC Piranha Fx is the latest – and smallest – of Next Wave's CNC systems and the only machine on the market that has 3D printing, laser engraving, along with CNC routing/carving functionality.
Next Wave offered the CNC Piranha Fx on Kickstarter so that the company could fund production via pre-orders. Though the campaign was fully funded within days of the Kickstarter launch, interested people can still get a unit as the campaign will continue until March 31, 2015.
"Piranha started off as a highly capable CNC – Computer Numerically Controlled – machine for woodworkers," says company founder Tim Owens. "Piranha Fx, now with the help of Kickstarter, will be an entirely new generation of machine – a make anything machine that will let users 3D print, laser engrave and carve, all on one machine."
Next Wave calls the CNC Piranha Fx the "Make Anything Machine" because it will include three easy to use modules letting users carve, laser engrave and 3D print, all on a single machine, all using a super simple, highly intuitive touch screen, all with an optional digitizer:
3D Printing Module: Replicate parts, create figures, design and fabricate literally anything. Users' design and DIY manufacturing ability is limitless with Piranha Fx' 3D printer. Users can design their own object with the included Vectric software on their own pc or laptop OR they can get the optional digitizer to copy an existing object.

Laser Engraving Module: Cut or engrave flat sheet materials such as paper, wood, plastic or fabric. The Piranha Fx laser allows users to engrave existing images, like photographs or drawings, in addition to creating their own designs.

Carving/CNC Routing Module: Whether users want to carve in wood, aluminum, soft metal or plastic, Piranha Fx can handle it all. Users can carve circuit boards, aluminum and other non-ferrous metals, like copper, brass, etc.

Optional Digitizer: With the optional digitizer, Piranha Fx makes it possible to recreate and copy small objects or existing three dimensional images and objects. Piranha's digitizer actually learns by touch so it can learn to recreate things that are hard to find or replace. This function is also perfect for hand-made objects users might want to mass produce.
Click here to learn more.
For more information about Next Wave Automation, go to www.nextwaveautomation.com or call (419) 318-4822.