Wacker Neuson continues to grow in North American construction market
Doubles U.S. revenues in four years.
---
Headquartered in Menomonee Falls (WI), Wacker Neuson Corporation has been a leading provider of light and – increasingly – compact equipment in the USA and Canada for over five decades. The Wacker Neuson Corporation is a member of the international Wacker Neuson Group, which recently published its successful
figures for fiscal 2014.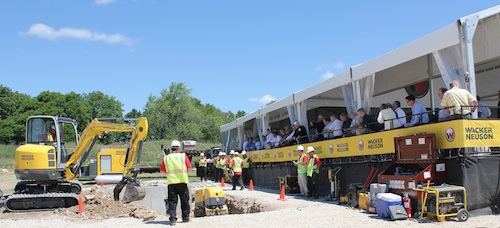 The company started manufacturing and marketing light equipment in the US back in 1957. At that time, it was based in Hartford (WI) and was the first affiliate outside of Germany established by Wacker (founded in 1848). Building on its ongoing success in the region, the Group invested in a new, larger development and production facility in Menomonee Falls near Milwaukee (WI) in 1986. Today, this site extends over a total area of 539,000 square feet.
Wacker Neuson manufactures rammers, rollers, trench rollers (soil and asphalt compaction), pumps and generators (worksite technology), and trowels (concrete technology) in Menomonee Falls. In 2015, it also started producing skid steer loaders and compact track loaders (compact equipment) at the site.
In 2006, the company decided to enhance its portfolio of heaters and dehumidifiers for the construction sector by purchasing the company Ground Heaters, Inc., a leading manufacturer of mobile hydronic heaters for construction companies headquartered in Spring Lake (MI).
In 2008, Wacker Neuson moved to its new production site in Norton Shores (MI). Today, it manufactures heaters, dehumidifiers and light towers at the 168,000-square-foot site.
The majority of products are destined for the North American market although some products are distributed globally. Since 1967 Wacker Neuson also has been operating in Canada with offices and distribution facilities in Toronto and Calgary.
For some time now, Wacker Neuson products have also been used beyond construction by municipal bodies, landscaping firms and industrial companies in oil and gas for instance.
Revenue doubled in just four years
Wacker Neuson has established a leading position for light equipment in its North American home market. The merger of Wacker and Neuson Kramer in 2007 expanded the product portfolio for the US and Canada to include compact excavators (800 kg to 15 tons), wheel loaders and dumpers. The outstanding reputation of the Wacker brand (established for light equipment) and the company's proximity to customers contributed to the successful launch of these larger machines.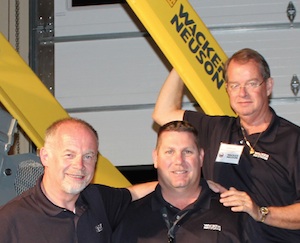 Wacker Neuson Corporation's leadership team (L-R):

Johannes Schulze-Vohren (Vice President and Managing Director)
, Todd Christifulli (Director of Sales and Distribution Development) and

Christopher Barnard (CEO)

.
The rise in revenue in North America is positive proof that this strategy is paying off.
"Our customers trust us and they trust the Wacker Neuson Group as a strong, successful global brand. We've been able to increase sales by also offering our customers compact equipment in the quality that they have come to expect from us. In just four years, we've more than doubled revenue in North America," explains Christopher Barnard, CEO of the Wacker Neuson Corporation.
"We wouldn't be where we are today without such excellent people with all their commitment, knowledge and problem-solving skills," he continues.
Wacker Neuson's product portfolio includes over 300 product groups of light and compact equipment that the company distributes via its extensive, professional network of dealers and rental companies. Experienced Wacker Neuson specialists support both key accounts and customers.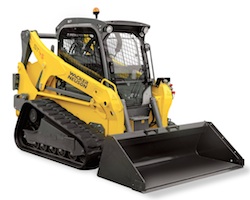 Skid steer loaders now made in the U.S.
The first skid steer loaders of Wacker Neuson in Menomonee Falls rolled off the production line just at the beginning of this year. The company is currently developing and manufacturing two powerful, high-quality skid steer loader models and two compact track loader models at the site.
"We expect this product group to drive growth significantly and open up excellent synergies for the entire compact and light equipment equipment portfolio across our North American distribution network," elaborates Johannes Schulze-Vohren, Vice President and Managing Director at the Wacker Neuson Corporation. "North America accounts for around 80 percent of sales for this product group – making it the largest market worldwide. Adding the skid steer loaders to our portfolio enables us to significantly grow our distribution network and expand our reach into the North American construction equipment market."
The Group unveiled the new models back in 2014 at CONEXPO. Menomonee Falls is now home to the Wacker Neuson Group's first compact equipment production plant in North America.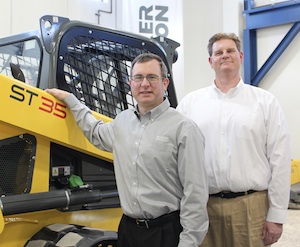 Wacker Neuson Corporation engineering and product development leaders include (L-R)
Keith Herr (Vice President and Managing Director Engineering and Production), Jonathan Omer (Vice President and Managing Director Market Development)
"Being close to our customers and to our products means that we can tailor our equipment exactly to market needs and deliver rapidly. We will also be delivering skid steer loaders from here to the global market," explains Keith Herr, Vice President and Managing Director engineering and production, at Wacker Neuson
Corporation.
Wacker Neuson is currently also making targeted efforts to expand its sales platform in South America, Europe and Asia for a wide range of locally manufactured products.
Outstanding support and proximity to customers
Wacker Neuson is an important employer in the Milwaukee area. The manufacturer is also committed to community involvement projects. Its activities here include financial donations to the Eisenhower Center, a nonprofit organization that offers vocational training for people with disabilities. Qualified employees are key to continued innovation and success. To maintain its competitive position on the international stage, Wacker Neuson is constantly looking for qualified specialists, ideally from the region in question.
In the year 2000, the Wacker Neuson Technical Academy opened its doors in Menomonee Falls. Over an area of 60,000 square feet, the company holds regular training courses for its own sales teams, dealers and construction companies. Participants also have the chance to experience the equipment at special seminars. The Academy also uses a second center in Alabama, primarily for training participants on the latest compact equipment.
Certified Dealer program - Excellence Award
Customers value the regular dealer meetings that the company holds at its Milwaukee site. These help dealers develop close ties to the manufacturer and find out about the latest product updates. In 2014, Wacker Neuson launched its Certified Dealer program, focused on technical training, service, spare parts and branding of Wacker Neuson products. The company regularly presents its Excellence Award to dealers that excel in certain areas.
"Maintaining close ties to our dealers strengthens business relations, builds trust and provides us with feedback from the market, enabling us to identify scope for further improvements in technology, design, quality and service," explains Jonathan Omer, Vice President and Managing Director Market Development at Wacker Neuson Corporation. "At the moment, for example, we are working on expanding our financing portfolio for our customers."
Expanding the business in Latin America
Wacker Neuson is also very active in Latin America. The company has had sales affiliates in Mexico (Mexico City), Brazil (Jundiai, near Sao Paulo) and Chile (Santiago de Chile) for many years now. To further strengthen its presence in South America, the Wacker Neuson Group established two new affiliates in 2014 – one in Peru (Lima) and one in Columbia (Bogotá).
In 2015, Hugo Franz Arce Sanchez was appointed Regional President, responsible for sales in the entire region. He will be strengthening Wacker Neuson's presence in the region and further expanding the regional dealer network.
About the Wacker Neuson Group:
The Wacker Neuson Group is an international family of companies and a leading manufacturer of light and compact equipment with over 40 affiliates and 140 sales and service stations. The Group offers its customers a broad and deep portfolio of products, a wide range of services and an efficient, global spare parts service.
The product brands Wacker Neuson, Kramer and Weidemann belong to the Wacker Neuson Group. In 2014, the Group achieved revenue of EUR 1.28 billion, employing around 4,400 people worldwide. Learn more at www.wackerneuson.com