Sphere 1 "cements" concrete membership at World of Concrete
Group has best member turn out ever for 2015 show.
---

What a difference a year makes! Sphere 1 had its best member turn out ever for World of Concrete 2015.
The Sphere 1 Concrete Committee gathered for a strategic planning session and then it was all feet on the show floor to meet with current preferred suppliers as well as prospective new companies.
Also at World of Concrete, Sphere 1 held a luncheon for a select group of prospective concrete distributors which included Sphere 1 management, Concrete Committee Leader Ron Tacey and Board Chairman Bob Borrhello.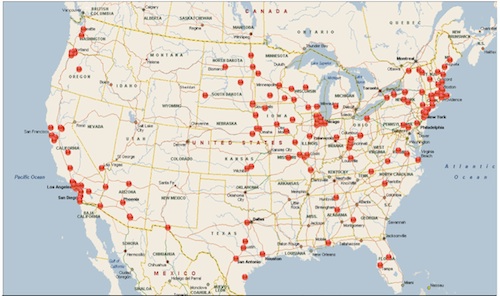 Shown in red are Sphere 1 member branches that primarily serve the concrete trades.
Sphere 1's current distributor membership includes:
143 member companies with 624 locations
Of total membership, 295 locations are selling to the concrete trades
Broken down further, 157 locations report being primarily in the concrete trades
Sphere 1 is currently pursuing several strong concrete distributors and actively filling slots on the concrete supplier side. For more information, visit Sphere1 at www.sphere1.coop