Atlas Roofing releases ProAPP mobile tool for contractors
App includes CRM functions, a Shingle Visualizer, lead generator and estimates manager.
---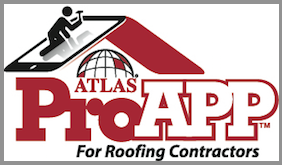 For roofing contractors constantly on the go and never in the office, the Atlas ProAPP is the must-have business management tool.
Contractors can think of it as their own mobile personal assistant, as this cloud-based management tool makes it easier than ever to set up new sales, manage marketing materials, and keep an open line of communication with their teams. It's everything a contractor needs for speed and efficiency, sitting in the palm of their hand.
Pro Sales
One of the many benefits of this mobile personal assistant is its ability to help streamline sales efforts through the innovative Shingle Visualizer, lead generator, and estimates manager.
Connected through the Atlas ProAPP, the Shingle Visualizer allows contractors to take a photo of a customer's house and digitally apply various shingle styles and color choices to their home. With the ProAPP in hand, sales teams have a more effective selling tool, as homeowners can see exactly what particular shingles will look like on their homes.
Other great features provided by the ProAPP are project creation and lead management. These tools will help track multiple projects from lead to completion. With auto updates in play, projects are tracked in real time as they progress from estimate to completion. There's no lost paperwork or excuses, as the app is always up-to-date.
The ProAPP also includes custom pricing and estimation tools. These tools make estimating fast and easy thanks to a pre-set inventory list. The setup is as simple as entering commonly used products and their prices to the app. Atlas Roofing products are preloaded so all that needs to be done is select the pre-loaded product, add the quantity, and submit. It's easy to attach to any project, and it is a fast, paperless process for the entire team.
Pro Marketing
New customers want to know that a contractor is honest, reliable, and previous customers were satisfied with past work. The ProAPP allows contractors to create a survey and, with the click of a button, shoot that survey to satisfied customers for a ready-made testimonial. Social media accounts can also be linked to easily help spread the word for every successfully completed project.
The ProAPP also offers quick access to all of Atlas Roofing's brochures. Contractors can even order product samples and marketing materials from the app. It's everything needed to educate a customer, just a click away.
Pro Communication
With the help of the ProAPP, your team will always be on the same page because projects are securely stored in the Atlas cloud system and updated in real time. This gives everyone the ability to connect at any time to all ongoing projects, no matter if they are using a tablet in the field or a computer back at the home office. Contractors can even communicate with their Atlas sales rep with any questions or comments directly from the app.
Download the Atlas ProAPP for FREE via iTunes
For more information on the ProAPP, including how-to videos, visit Atlas Roofing.