Omega to host final ESPN "Friday Night Fights" program
Stucco manufacturer's Corona, Calif. plant will be site of May 22 event.
---
Omega Products International, the nation's leading stucco manufacturer, will be a part of boxing history on Friday, May 22.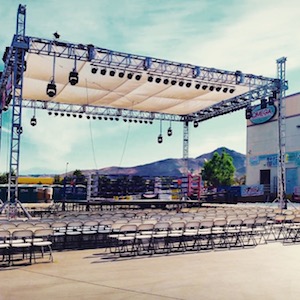 The Omega Products Outdoor Arena will function as the backdrop to the final ESPN Boxing broadcast of the storied "Friday Night Fights" program that launched in the fall of 1998.
The network has a new program in development that will broadcast 11 events next year on its main ESPN channel, and one afternoon broadcast on ABC.
The final telecast features two excellent fights in the heavyweight and junior middleweight divisions (ESPN2, 9:00 p.m. ET/6:00 p.m. PT).
"This is a special event for everyone involved," said Todd Martin, vice president and general manager at Omega Products. "For ESPN, it's the end of an era, but also the start of something new. We received tremendous exposure from these shows and will continue to host boxing events in the future."
Heavyweight talents Donovan Dennis (14-2, 11 KOs) of Cleveland, Ohio and Andrey Fedosov (27-3, 22 KOs) of Russia will meet in a 10-round fight to determine the 2015 Boxcino Heavyweight Champion, a tournament style competition that began in January.
Junior middleweight Brandon Adams (16-1, 12 KOs) of Los Angeles faces the smooth boxing skills of John Thompson (16-1, 5 KOs) of Newark, New Jersey in the 10-round championship that decides the 154 lb. champion.
The Boxcino Finals is televised on ESPN's "Friday Night Fights" (ESPN2, 9:00 p.m. ET/6:00 p.m. PT) and is co-promoted through Thompson Boxing Promotions and Banner Promotions.
Omega Products, which currently holds a 50 percent market share of the stucco industry in California, also manufacturers tile and stone installation products for its Siena division, and its Valentino brand, is among the finest Venetian decorative plaster found in the U.S.
For additional information on Omega Products and its various divisions, please visit www.omega-products.com.
The Omega Products Outdoor Arena is located at 1681 California Ave., Corona, CA 92881, and can be reached at 951-737-7447. Doors open at 5:45 p.m. PT and the first fight starts at 6:15 p.m. PT.
Tickets are priced at $50, $70, & $100 and can be purchased by calling 714-935-0900, or online at www.ThompsonBoxing.com.