IronPlanet holds early summer auctions June 24 - 26
Sales will feature 3,000+ Humvees, construction, mining and military equipment and trucks.
---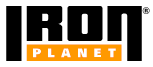 IronPlanet will be holding auctions across its marketplaces over three days starting Wednesday, June 24, 2015, and featuring more than 3,000 items.
The auctions will offer a wide range of quality equipment, ranging from mining equipment to military Humvees to construction equipment and trucks.
Mining equipment features packages from Oxbow and Carna Contracting (by order of FTI Consulting), which includes five Cat 777G Off-Road End Dump Trucks.
Online auctions will be held at www.ironplanet.com, www.govplanet.com and www.truckplanet.com