Strong-Tie Strong-Rod Continuous Rod Tiedown System wins innovation award
Product will be featured June 24-25 at PCBC Show.
---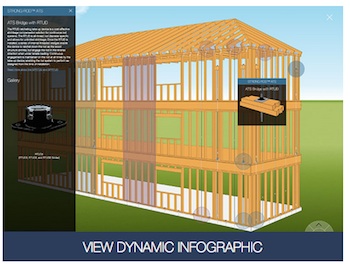 Simpson Strong-Tie will feature its innovative, award-winning Strong-Rod continuous rod tiedown systems during the PCBC tradeshow at the San Diego Convention Center on June 24-25.
This product was one of only 18 selected to win a 2015 Parade of Products PCBC award, which is given by the California Building Industry Association to the top products representing the best in innovation and new product solutions.
The new Strong-Rod continuous rod tiedown systems feature new code-listed components and optimized rod-run assemblies, giving Designers cost-effective and code-tested options for light-frame, mid-rise wood construction.
The Strong-Rod Anchor Tiedown System for shearwall overturning restraint (ATS) and Strong-Rod Uplift Restraint System for roofs (URS) address many of the design challenges specifically associated with mid-rise buildings that must withstand seismic activity or wind events. These systems are designed to restrain both lateral and uplift loads, while maintaining reasonable costs on material and labor.
For more information about the Strong-Rod continuous rod tiedown systems and other new products from Simpson Strong-Tie, including fasteners, anchors and Strong-Wall shearwalls, visit booth 1241 at PCBC, or visit the website www.strongtie.com.