Milwaukee announces 80 new products
Major new releases on tap for the rest of the year.
---
Milwaukee has all but trademarked the term "disruptive innovation" in the power tool market and it was on display aplenty last week at the company's 2015 New Product Symposium. Over two days, Milwaukee launched and demonstrated some 80 new tools for the corded and cordless power and hand tool markets. Many of them were indeed "disruptive" innovations.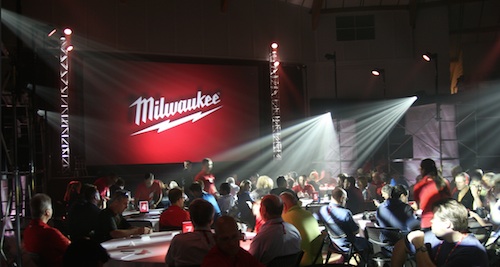 Held June 16 and 17 at the Waukesha County Expo Center in Waukesha, Wisconsin, the event's demonstration and display installations consumed 40,000 square feet of space and afforded lots of wander room in which to test and feel new tools in representative application environments.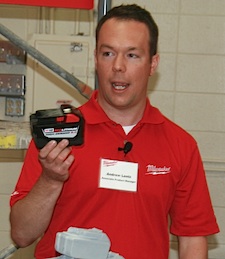 Milwaukee's Andrew Lentz shows off the all-new REDLITHIUM High Demand 9.0 Amp-hour 18-volt battery.
It was a major undertaking for the Milwaukee staff, the culmination of more than two months of logistics and the coordination of virtually every department in the company. Benefactors of the event included 90-some journalists, bloggers and tool-focused TV personalities — and 500-plus Milwaukee employees, many of whom were seeing their first ever full-scale new product launch.
During his opening remarks, Milwaukee President Steve Richman drew the assembled journalists' eyes up to the domed center hall's upper level, which had been quietly lined with all 500-plus employees of the company's Milwaukee headquarters. Ever have the feeling that you're being watched? Kudos goes to Milwaukee for stuffing the rafters with 500 people with almost no one the wiser down on the main floor until the surprise came.
"Our people are obsessed with driving the next level of innovation," Richman said in tribute to the employees lining the balcony. "The 500 people here today from our Brookfield facility are the most special part of Milwaukee Tool."
Naturally, one of the biggest pieces of news at last week's Milwaukee 2015 New Product symposium is embargoed until early August. We can tell you its name, "One Key," and hint that it promises to usher in a new era of productivity and asset management in the tool arena.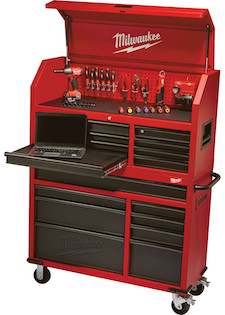 Milwaukee's 46-inch rolling steel storage chest and cabinet features multiple access points for charging stations, 1,800 pounds of capacity and a steal-me price of $699.00.
What impressed us most about the One Key system is that not so much that it introduces a tool technology that many users had not even conceived of just a few weeks ago, but rather that it is making its debut as such a fully-realized, born-whole system — even given the repeated emphasis that this is just the beginning for a new technology. One Key truly could be game changing stuff, but we will have to wait a few weeks to tell you more about it.
Show me the tools
But that left 79 or so new products that can be talked about and shown, including new grinders, a cordless MAG DRILL, a cordless SUPER HAWG right angle drill, new 9-Ah, that's right, 9 AMP HOUR 18-volt batteries, crimpers and knock-out tools, compact impact wrenches, heated apparel, LED job site lighting, Shockwave impact bits, and a very smart 46-inch job site rolling tool chest with power connectivity.
Still more new products include tape measures, pliers, hacksaws, INKZALL markers, pipe wrenches, wire strippers and a lot more — each incorporating Milwaukee's now-standard improvements on old toolbox favorites.
Oh, and the much-anticipated rollout of Milwaukee's next-generation Empire Level product lineup. One pleasing aspect is that Empire will retain the brilliant blue color scheme that has made it so easily recognizable on job sites for decades.
Over the coming weeks we will be introducing you to most of those new tools, so stay tuned. For now, here is a small sampling of some of the more noteworthy new products.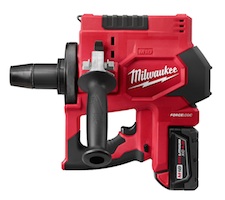 Coming in November, the model 2633-22 M18 FORCELOGIC 2-3-inch ProPEX Expansion Tool will be the only cordless tool on the market that can expand it for making connections.
We have followed the Milwaukee/Uponor partnership on PEX tools and since 2010. Coming in November is a new system, the industry's first expandable three-inch PEX pipe and the only tool on the market that can expand it, the M18 FORCELOGIC 2"-3" ProPEX Expansion Tool.
"Until now, its use in commercial has been limited due to tubing size and installation tooling," said Corey Dickert, director of product marketing for Milwaukee Tool. "We are proud to partner with Uponor to deliver a solution that will make larger diameter ProPEX a compelling solution for commercial system installations."
The new M18 FORCELOGIC ProPEX Expansion Tool will feature a continuous expansion design and auto-rotating head for even pipe expansion and maximum installation speed. With an electronically controlled, powerful 10T hydraulic mechanism, the tool expands, rotates and resets automatically. It also has a kickback-reducing clutch.
Cordless grinders see a new braking system that brings the wheel to a halt in less than two seconds. Milwaukee says the model 2783-22 is the only cordless braking grinder on the market with the power to grind, not just cut.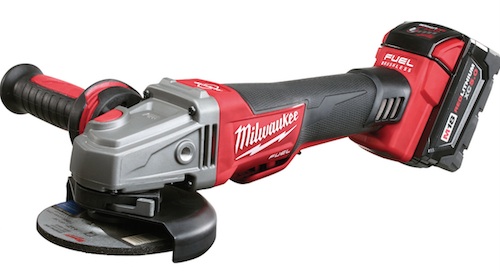 The new cordless braking grinder features the same metal housing and gearing system as Milwaukee's high performance corded grinders. It will be available in July.
Two more cordless showstoppers include the model 2787 M18 FUEL 1-1/2" Magnetic Drill and the model 2788 M18 FUEL 1-1/2" Lineman Magnetic Drill.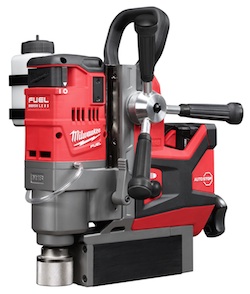 Part of the premium M18 FUEL line, these new tools are faster than their corded counterparts, deliver the strongest magnetic hold on ¼-inch steel, and can drill up to (40) 13/16" holes per charge.
With a focus on vertical and overhead drilling environments, Milwaukee has improved the traditional ergonomic design of the tools to speed up the positioning and drilling process in these orientations.
In addition, the new tools utilize permanent magnets so that the magnetic base operates without electricity; ensuring that the magnet does not deactivate if the battery is drained. Equipped with Auto-Stop lift-off detection, power to the motor is automatically cut if excess rotational motion is detected while drilling.
Both drills are equipped with a ¾" Weldon quick-change chuck, making accessory changes fast and easy. They also come packaged with a ¾" Weldon to ½" Chuck adapter, and the ability to adjust the height of the motor head, tool-free. This provides users the ability to switch from annular cutters to twist bits, faster and easier.
For plumbers and HVAC pros who need monstrous torque, the new model 2709 M18 FUEL SUPER HAWG cordless right angle drill powers through holes with up to 4-5/8" self-feed bits and six-inch holes with hole saws and can drill over (75) 2-9/16" holes per charge with Milwaukee REDLITHIUM XC5.0 batteries.

In addition, the model 2711 features a new-to-world QUIK-LOK Chuck. This proprietary chuck provides a keyless, one-handed bit change for most augers, self-feed bits and hole saws with flat or groove 7/16" shanks, as well as 3-flats bits. The tool is also equipped with a mechanical clutch in low gear to protect the tool in case of bind-up.
As mentioned, these are just a handful of the 80-plus new products Milwaukee is unleashing over the next six to nine months. Check back with us regularly for more of them. You can also see more at www.milwaukeetool.com. CS