Dorner appoints Dan Nasato VP, International Operations
Company also names four more new VPs.
---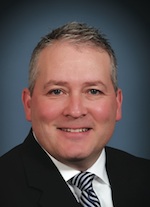 Dan Nasato has been appointed Vice President – International Operations for Dorner Mfg. Corp. This is a new position created by Dorner with the goal of establishing brand recognition and growing sales to international markets.
Nasato brings to Dorner more than 25 years of material handling and global supply chain experience, with expertise in logistics, supply chain management, business development, manufacturing and other related areas
Dorner continues its steady ascent in the material handling industry through a mix of customer service, and custom-built industrial and sanitary low profile belt conveyors.
In the past 18 months alone, Dorner has launched several new conveyor platforms, including its SmartPace conveyor, which is designed to enhance packaged product orientation by receiving items and properly spacing them on the conveyor.
Additionally, the company has added a second shift and has hired more than 50 new employees.
"I'm very excited about joining Dorner and helping drive awareness and sales to new, emerging markets around the world," Nasato said. "Customers throughout the United States know the Dorner brand and the quality it represents. Soon the rest of the world will know that as well."
In addition to Nasato, Dorner has promoted four employees to other vice president positions:
• Mike Hosch – Business Unit Vice President / Industrial Products
• Matt Jones – Vice President / Sales & Marketing
• Randy Meis – Vice President / Operations
• John Kunhz – Business Unit Vice President / Engineered Solutions Group
Nasato can be reached at 270-331-5943 or dan.nasato@dorner.com.
Learn more at www.dorner.com.