Flexzilla Pro Air Hose Receives Retailers' Choice Award
Second win for Flexilla at NHS.
---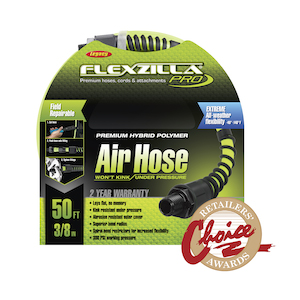 Legacy Manufacturing, an international work products company located in Marion, Iowa, received a Retailers' Choice Award for its Flexzilla Pro Air Hose during the National Hardware Show, sponsored by Hardware Retailing magazine.
Flexzilla Pro Air Hose was one of 30 products chosen from among 5,000 to receive the award by a panel of home improvement retailers appointed by the magazine. The panelists look for unique products and packaging, and products that have strong sales potential.
This is the second time the Flexzilla Pro line of hoses has received recognition. It was also a winner for product innovation in the 2013 Product Showcase at the Automotive Aftermarket Products Expo.
"It's an honor for our product to be recognized and appreciated as leading-edge by customers in two different industries," says Legacy's VP, Matt Weems. The hose's unique design allows for the ends of the hose to be replaced in the field if they are dysfunctional or worn. This can prevent down time on the job and save money because the hose can be repaired rather than replaced. Flexzilla Pro Air Hose can also be tailor-made for a job. A custom length of hose can be purchased through a distributor.
Legacy Manufacturing Company specializes in durable and innovative products including Legacy equipment for the automotive and industrial markets, Flexzilla hoses, cords and attachments, SmartFlex air, garden and RV/Marine hoses, Lock-n-Load grease guns and ColorConnex, an easy color matching system of couplers and plugs. Legacy Manufacturing is a division of Weems Industries, founded in 1986. For more information, visit www.legacymfg.com.