DeckLok verified to meet (ICC-ES) codes
SPI DeckLok lateral anchor system earns ESR-2114 evaluation from ICC-ES.
---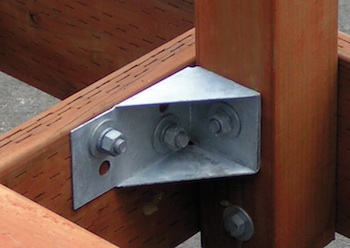 DeckLok, the patented lateral anchor system from Screw Products, Inc. (SPI), recently received an updated ESR-2114 evaluation from ICC Evaluation Service (ICC-ES) verifying the bracket's continued compliance with code requirements.
This was based on a thorough examination of Screw Products, Inc. test reports, calculations, quality control methods and related product information.
According to ICC-ES President Shahin Moinian, "Screw Products, Inc. can now reference the evaluation report to ensure building officials and the building industry that the product meets I-Code requirements. Building departments have a long history of using evaluation reports, and ICC-ES operates as a technical resource with the highest quality of product review for the building department."
"DeckLok is revolutionizing the deck industry," adds Jim Miller, CEO of Screw Products, Inc. "This patented lateral anchor system strengthens the vulnerable connections between deck components by adding a bolted attachment at critical structural locations. Current deck fastening techniques rely on resistance to 'pullout' force... like using a nail to hold a crowbar. The DeckLok Advanced Lateral Anchor System creates stronger deck connections by redirecting the force of the load from 'pullout' to a connection in 'shear' at the deck floor joist."
Building officials, architects, contractors, specifiers, designers and others commonly utilize ICC-ES Evaluation Reports to provide a basis for using or approving DeckLok in construction projects under IRC and IBC 2006, 2009 and 2012 Safety Code requirements. This includes ensuring both lateral pullout and rail post stability, while using current deck construction techniques and designs.
For more information on the patented DeckLok Lateral Anchor System please visit www.deck-lok.com or www.screw-products.com and/or call 1-877-844-8880.