Snap-on offers Tools@Height tool drop prevention certification
Training program teaches safety habits and competency with tethered tools.
---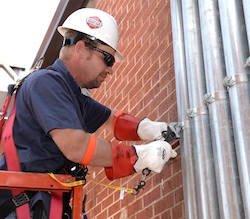 Snap-on has expanded its technical education program by now offering its Tools@Height tool drop prevention certification.
Dropped objects are the third leading cause of injury or death in the workplace, which is why the Tools@Height Certification is an important program for all students and technicians working at heights greater than six feet above the ground.
This certification is being driven by industries as they recognize the need for training and awareness in working with tools at height. The goal of the certification course is to foster strong safety habits when working at height, and a sound familiarity with and competency in using tethered tools.
Students and technicians who complete the Tools@Height Certification course give themselves a leg up on the competition as they will be prepared to meet the challenges of working at height in industries such as construction, aviation manufacturing and maintenance, industrial maintenance, oil and gas, wind energy and others.
Students and technicians attending the two-day Tools@Height Certification course will:
Develop an understanding and awareness of the hazards of dropped objects and make a commitment to a "Zero Drop" philosophy
Understand the differences between engineered solutions and unsafe, modified solutions
Develop an understanding and proper usage of Snap-on's unique engineered solutions for securing wrenches, screwdrivers, sockets and most other common workplace items
Become competent in utilizing universal attachment systems (tapes and quick spins) for properly retrofitting existing tools where necessary
Develop proper practices for carrying, securing and unloading tools at height, along with a strong sense of situational awareness
Tools@Height drop prevention is just one of many certification courses developed by Snap-on and is designed to further the skills and hands-on knowledge of students and technicians. To date, more than 240 technical schools and training centers from across the country are offering specialized Snap-on Certifications in disciplines like torque, diagnostics, vehicle information systems, multimeter, horticulture, and now Tools@Height. These innovative certification programs enable students to broaden their technical skills while enhancing their employability.
The goal of the Snap-on Education Program is to leverage more than 95 years of industry knowledge and tool expertise, developing product certification courses that serve as a significant enhancement to the curricula currently taught in today's technical classrooms. These certification courses emphasize tool theory, application, and usage; three areas of study that equip students with an essential foundation for enhanced proficiency, productivity, and safety. The certifications provide for conformity to an established standard and are typically integrated into existing courses offered by partnering schools.
The certification training is a collaborative effort between Snap-on and the National Coalition of Certification Centers (NC3), which is a network of education partners and corporations that supports advances in workforce skills in the transportation, aviation, manufacturing and energy sectors.
Technical school instructors benefit from the partnership with Snap-on as they have an opportunity to learn the latest advancements in tool technology, and stay abreast of maintenance issues affecting their areas of expertise, by attending training seminars at Snap-on's Kenosha, WI facilities. The technical schools benefit by being able to offer courses that train students to become tomorrow's best professional technicians.
For more information about Snap-on's Education Program or the new Tools@Height tool drop prevention certification, contact John Gamble, Business and Education Partnership Manager, Snap-on, at 413.441.5429, or email john.gamble@snapon.com.