Gemtex offers flap disc private label program
Program includes Gemtex FLAPTEC discs from 4 to 7 inches in a variety of materials.
---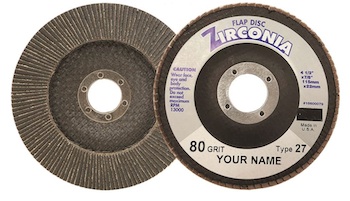 Gemtex Abrasives announces a new Flap Discs private labeling program featuring Gemtex FLAPTEC discs. Gemtex FLAPTEC discs are offered in the following configurations and includes these features:
Available materials: Aluminum Oxide, Zirconia, and Ceramic l Type 27 Flat Face and Type 29 Angled Face
Standard and High Density
Printing of your logo and other information included
Minimum 50-piece quantities
Provides higher productivity using one disc to go from grinding to blending and blending to finishing. Available diameters: 4" x 5/8", 4-1/2" x 7/8", 4-1/2" x 5/8"-11", 5 x 7/8", 5 x 5/8"-11", 7" x 7/8" and 7" x 5/8"-11". Available grits: 36, 40, 60, 80, and 120.
Gemtex is a premiere partner in the abrasives private label industry. Private branded products typically have a higher profit margin than resale products. Private branded products also present a consistent brand to your customers and reinforce your advertising efforts.
Learn more at www.GemtexAbrasives.com