Snap-on teams with Starrett to offer Precision Measurement Instruments courses
NC3-certified PMI course includes 32 hours of study in the use of precision measurement instruments.
---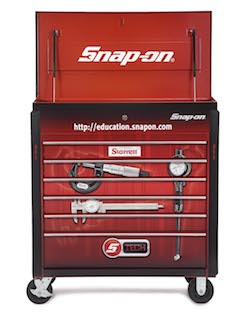 Snap-on has joined forces with the L.S. Starrett Company to create the newest addition to Snap-on's series of technical education certification courses – Precision Measurement Instruments (PMI).
The goal of the PMI Certification course is providing students and technicians with a robust understanding of the fundamentals of precision measurement instruments. The PMI Certification course contains six modules, each contributing to a combined total of 32 hours of instruction in the following areas:
Tape and Rule Measurement
Slide Caliper Measurement
Gauge Measurement
Angle Measurement
Micrometer Measurement
Dial Gauge Measurement
Enrollees in the course will use Starrett measuring devices in a practical learning environment. Headquartered in Athol, Massachusetts, Starrett is a leading manufacturer of a variety of precision measuring instruments, including micrometers; calipers; rules; levels; electronic gages; dial indicators; force and material testers; optical and vision products; gage blocks and granite surface plates; and custom engineered products.
"Precision measurement is the cornerstone of quality in the vast array of products and services many people rely upon each day," said Ira E. Friedman, Western Region Tool & Metrology Sales Manager for the L. S. Starrett Company.
"Technicians who are proficient in this discipline are essential to the success of organizations who work to meet the needs of the global marketplace. Starrett is proud to partner with Snap-on and leading technical colleges in America in this effort to make training and certification in precision measurement instruments available to students and instructors."
Precision Measurement Instruments is just one of many certification courses developed by Snap-on that are designed to further the skills and hands-on knowledge of students and technicians.
To date, more than 225 technical schools and training centers from across the country offer specialized Snap-on Certifications in several disciplines including torque, diagnostics, vehicle information systems, multimeter, tethered tools, horticulture, and now Precision Measurement Instruments. These innovative certification programs enable students to broaden their technical skills while enhancing their employability.
The certification training is a collaborative effort between Snap-on and the National Coalition of Certification Centers (NC3), a network of education partners and corporations that support advances in workforce skills in the transportation, aviation, manufacturing, and energy sectors.
For more information about Snap-on's Education Program or the new Precision Measurement Instruments Certification, contact John Gamble, Business and Education Partnership Manager, Snap-on, at 413.441.5429, or email john.gamble@snapon.com.
Learn more at www.snapon.com and www.starrett.com.