DEWALT Tool Connect app goes live
Free app enables users to manage battery inventories and charge levels on job sites.
---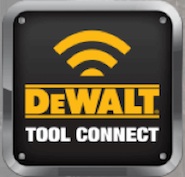 The free online app that enables DEWALT's new premium 20V MAX* Bluetooth batteries is now available.
These new Lithium-ion batteries ( 2.0 Amp (DCB203BT) and 4.0 Amp (DCB204BT) batteries pair with Apple and Android smart devices via the free Tool Connect App.
This innovation gives DEWALT users the ability to control their compatible DEWALT batteries remotely via a Bluetooth device. For the early-adopter who runs a business on a jobsite, this technology allows greater control over tools in residential, MRO and commercial work sites.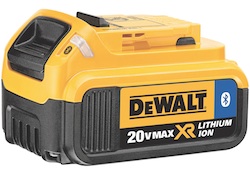 Bluetooth enabled batteries solve a number of jobsite problems and the Tool Connect App takes just a few moments to set up. Users can simply connect their compatible DEWALT batteries to their Bluetooth-enabled smartphone or tablet (by initiating the pairing process) and view the inventory of paired units on the Tool Connect App home screen.
This home screen allows users to remotely turn all compatible DEWALT Bluetooth batteries on or off at once, monitor battery charge level, view Bluetooth signal strength, and pair additional batteries.
From the Tool Connect App home screen, users can select an individual battery to view its diagnostics and change settings by tabbing through four pages: Diagnostics, Actions, Info, and Alerts.
The Diagnostics screen indicates an individual battery's state of charge, temperature, and connection to Bluetooth. This screen also allows users to enable and disable a particular battery. By disabling a battery, the user prevents it from being used until re-enabled. This feature makes it easy to shut down equipment at the end of the day to conserve battery life and deter theft.
The Actions screen allows the user to customize their alert preferences depending on what information they need and when they need it. These options include Alert if Out of Range, Disable if Out of Range, Alert at Low Battery Charge, Alert at High Temperature, and Alert at Charge Completion. In addition, this screen offers a Lending Button, which allows for sharing of batteries. The user can select an amount of time for the tool (with battery) to be lent and when the time is exceeded, the battery shuts down and the owner receives an alert.
Finally, the Alerts screen provides a comprehensive list of all of the alerts that have been generated by the Tool Connect App and the compatible DEWALT Bluetooth batteries. From here, users can select an alert to view more details or clear some or all alerts in the log.
The DCB203BT will retail for $99 (MSRP) and includes 2 years of free service. The DCB204BT will retail for $139 (MSRP) and includes 3 years of free service.
Click here to download the app for your Apple or Android smartphone. Learn more at www.dewalt.com