TigerStop launches all new website
TigerStop.com makes product selection easy and explains the advantages of automation.
---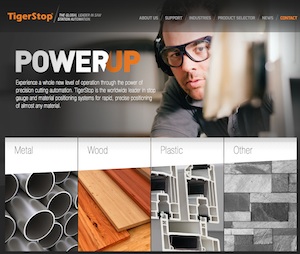 TigerStop has just launched a completely new company website, www.TigerStop.com. The new site makes it easy for visitors to grasp the benefits of incorporating – or improving upon – lineal cutting, drilling, punching or boring automation in a variety of manufacturing environments.
The visually clean and appealing design simplifies navigation so visitors can search by material types being processed, by product or by industry.
TigerStop.com includes a Product Selector, to help site visitors determine what they need and an ROI calculator which provides the user with information on annual savings and how quickly automation equipment provides payback. The ROI calculator can also be used by site visitors for virtually any capital expenditure.
"There are a lot of manufacturers – both large and small – who would like to learn more about automating their lineal processes – such as lineal cut-off – but who don't really have a good resource they can turn to," says Spencer Dick, TigerStop's Founder and CEO. "We wanted to make it really simple for site visitors to learn how easy it is to select an appropriate automation solution and to understand how affordable automation can be. Our new site does that and more."
Product selection is made simple at TigerStop.com. On each and every page of the new site, visitors can click on the new Product Selector and by answering a few simple questions, end up with a TigerStop product that fits their application or process.
Manufacturers often work with different material types – or a variety – in their lineal material processes. The new TigerStop.com also provides information by industry type, enabling site visitors to see how TigerStop automation solutions can be easily incorporated to increase profitability regardless of what is being manufactured. According to Spencer Dick, "If it's a length of material being cut, drilled, punched or bored, we have an easily added-on automation solution for it."
TigerStop.com's ROI Calculator – which anyone can use for virtually any capital expenditure – allows the user to input current-market labor and material costs along with costs of rework. Results are calculated automatically and include figures for annual dollar savings, ROI and payback period. A user can also start with a capital investment amount based on their budget and add estimated reduction in labor and material waste to determine ROI and payback period. Users will be pleasantly surprised by how quickly TigerStop products pay for themselves and continue to provide ongoing savings.
Headquartered in Washington state, TigerStop is a U.S. manufacturer of products for the cabinet, furniture, construction, fenestration, electronics, plastics and metalworking industries. TigerStop products easily integrate with existing equipment to help optimize and improve the accuracy of all lineal cutting processes. To view videos and testimonials or to request a quote, please visit www.tigerstop.com or phone 360-254-0661.