Posted September 23, 2015
Strong Man issues digital brochure
e-brochure features a complete listing of Strong Man products.
---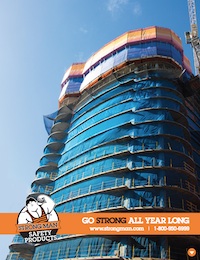 Strong Man Safety Products has launched a new tool to increase convenience for its customers while also doing its part to save paper. The new digital brochure features a complete listing of Strong Man products and is available for download on the Strong Man website at www.strongman.com.
The brochure includes the most current stock list of fire-retardant tarps, wet curing blankets, vapor/moisture barriers and debris and safety netting tarps, all available in a variety of sizes and colors. All products are independently tested by third parties to ensure the highest safety standards are met.
Since 1974, Strong Man Safety Products have been widely used by construction companies, subcontractors and utility companies on job sites, demolition sites, storage areas and material yards. They are used as sandblast curtains and scaffold enclosures, as well as vision, wind and heat barriers. Strong Man enclosures meet OSHA specifications and are wind-resistant and flexible, even in cold weather.
For more information regarding the new digital brochure or any Strong Man product, visit www.strongman.com, email at sales@strongman.com or call 973-831-1555.