Posted October 5, 2015
PFERD names new marketing manager
Maria Cartier joins PFERD from Walter USA.
---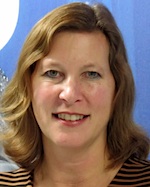 Gene Huegin, President of PFERD INC., recently announced that, effective September 2, 2015, Maria Cartier had assumed the responsibilities of Marketing Manager of the company's U.S. operations headquartered in Milwaukee, WI. She will presently report to Huegin until a new Vice President of Sales is named for PFERD early next year.
Cartier comes to PFERD with over 20 years marketing experience. She most recently served as Marketing Manager at Walter USA where she lead a team charged with executing global marketing strategies directed at increasing their cutting tool business in the U.S. and Canadian markets.
She has previously held several other marketing positions including Director of Marketing for an international medical device manufacturer. Cartier earned her B.A. degree in Marketing from the University of Wisconsin - Milwaukee and she speaks fluent German.
In announcing the appointment, Huegin spoke to the importance of this position as it relates to the PFERD objective of maintaining their strong growth in the U.S. "As PFERD has just completed the consolidation of all its operations in Milwaukee, we knew a key priority was to name a solid marketing professional to lead our busy marketing staff. Maria joins us with outstanding credentials and an excellent record of achievements. We are confident she will succeed in helping to increase PFERD leadership in the U.S. metal finishing market," Huegin concluded.
PFERD is the wholly owned subsidiary of August Rüggeberg GmbH and Co., a 216 year old family owned business in Marienheide, Germany. It has been operating in the United States for over 30 years. They are among the world leaders in the design and manufacture of high quality abrasive and industrial brush products.
For more information, visit www.pferdusa.com