Posted October 12, 2015
G&G LED Lighting expands HQ and Manufacturing
New 6,500-square-foot facility in Albany enables greater capacity and product line growth.
---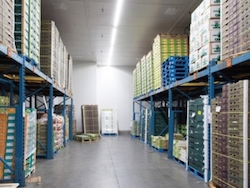 G&G LED Lighting, which manufactures wet location lighting for rugged commercial applications, has tripled its warehouse and office space to accommodate its continued growth.
Its new 6,500 sq. ft. location at 8 Access Road in Albany, was chosen specifically to further the company's expansion into new markets with cost-effective, highly-reliable LED lighting products designed especially for harsh, wet environments.
"We've not only added extensively to our executive staff, but also released several new waterproof product lines, enhanced other features and received multiple new product certifications this past year alone," says Jason Baright, president of G&G LED.
"However, our greatest strength has been the provision of high-quality, specialty lighting for a wide range of commercial purposes. No matter the need, we provide customers with application support and lighting design services as well as free consultations without hassle. This is not something you will find from many other lighting manufacturers."
According to Baright, where other manufacturers have remained unchanged for decades, G&G LED has emerged an industry leader in just five years through the introduction of a proprietary form factor utilizing a plug-and-play, daisy-chain connection/wiring method that provides a modern look, easy installation and enhanced reliability. The entire product line is backed by a no-hassle warranty, plus the highest level of customer service and support in the field.
"This move offers even greater customer and distributor support through the addition of more stock inventory, increased service staff and decreased lead and transit times. We also have a much larger R&D area containing larger testing chambers, manufacturing capabilities and equipment," adds Baright.
Within the upcoming year, Baright also believes G&G LED will continue to expand with new hires, new product enhancements and ongoing rollouts into new markets. "Never giving up our roots as a design-oriented company, we have and always will continually innovate, improve and enhance our product line according to the needs of our customers and business partners," concludes Baright.
Headquartered in Albany, New York, G&G LED was founded in 2010 to fill industrial lighting needs for high-quality linear LED products, especially those suitable for wet locations and harsh environments. Since its introduction, the company has developed a widespread reputation for innovation and outstanding customer service within the car wash industry and is rapidly gaining traction in the automotive, food/restaurant, transportation, industrial and agriculture fields. Learn more at www.ggled.net