Posted October 19, 2015
Gateway Safety wins product award
Wins first place for vision protection in 2015 OH&S New Product of the Year awards.
---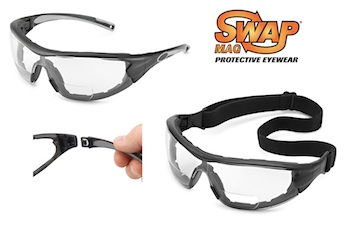 Gateway Safety's Swap MAG Safety Eyewear won first place for vision protection in the 2015 OH&S New Product of the Year awards. Winners were selected by an independent panel of highly qualified judges. A record number of products were entered into this year's competition.
Swap MAG is Gateway Safety's newest bifocal eye protection product. It's an extremely unique, glasses-to-goggles solution that offers bifocal magnification in 1.5, 2.0, & 2.5 diopters.
A simple push of a button allows the user to replace the temples with an adjustable head strap (included with each pair) and transition the product into a safety goggle.
Lined with comfortable, closed-cell foam, Swap MAG is the innovative answer for workers who need to block dust and debris and help with their vision.
"Gateway Safety is proud to be recognized again for innovation in product development," said Gateway Safety Product Manager Bonnie San. "We are especially pleased when our eye protection products are independently identified for uniqueness and originality, in an industry where many people view safety glasses as just a commodity."
For more information or a sample of Swap MAG, safety professionals can visit www.GatewaySafety.com or call at 216-889-2000.