Posted October 20, 2015
Dodge: Construction starts slip 5 percent in September
Nonresidential building and housing lose momentum.
---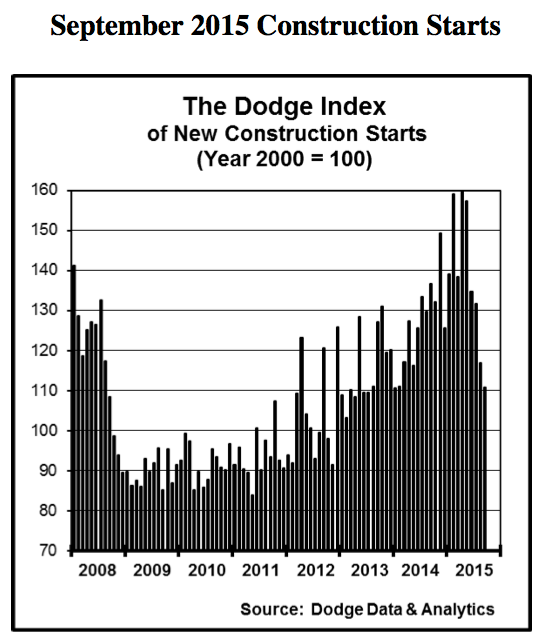 The value of new construction starts in September dropped 5% from the previous month to a seasonally adjusted annual rate of $523.7 billion, according to Dodge Data & Analytics. Decreased activity was reported for both nonresidential building and housing, while the nonbuilding construction sector managed a partial rebound after its August decline.
Through the first nine months of 2015, total construction starts on an unadjusted basis were $497.4 billion, up 12% from the same period a year ago. Excluding the electric utility and gas plant category, which soared earlier in 2015 due to the start of several massive liquefied natural gas (LNG) terminals, total construction starts during the first nine months of 2015 would be up 5% relative to last year.
The September data produced a reading of 111 for the Dodge Index (2000=100), down from 117 in August.
"The level of construction starts was subdued during both August and September, retreating from the strength shown earlier in the year," stated Robert A. Murray, chief economist for Dodge Data & Analytics. "The pause for total construction is perhaps best viewed from the vantage point of the three major construction sectors."
"For nonresidential building, the volume of construction starts soared 24% in 2014. While activity has leveled off in the near term for its commercial and institutional segments, much of this year's softness for nonresidential building is related to a decreased amount of manufacturing plant construction, adversely affected by the sluggish global economy and falling energy prices. Economic factors that influence the commercial and institutional segments, such as receding vacancies and funding support from state and local bond measures, remain positive."
"For residential building, the month-to-month variation has reflected the pattern of multifamily housing, which in August and September fell back from robust activity in June and July. Multifamily housing is still on track for double-digit growth in 2015.
For nonbuilding construction, much of this year's boost during the first half came from the start of several massive projects, including work on the Interstate 4 Ultimate Project in central Florida and several LNG terminals on the Gulf Coast of Texas and Louisiana. The exceptional amount of nonbuilding construction starts in the first half of 2015 was not sustainable, and activity is now proceeding at a more moderate pace. Going forward, the performance of nonbuilding construction will be affected in large measure by the progress made by Congress in passing the next multiyear federal transportation bill."
Nonresidential
building in September dropped 4% to $152.9 billion (annual rate):
Institutional categories as a group fell 13%
Educational facilities retreated 20% from August
Public buildings (courthouses and detention facilities), down 42%
Religious buildings were down 31%.
On the plus side:
Transportation terminal work in September increased 21%, helped by the start of a $150 million airline terminal at George Bush Intercontinental Airport in Houston TX.
Amusement and recreational facilities advanced 12% in September, reflecting the start of a $125 million addition to the Greater Columbus Convention Center in Columbus OH, and
Healthcare facilities edged up 2%.
The commercial building group in September improved 4%, regaining some ground after a 24% plunge in August.
Office construction climbed 20%, supported by such projects as the $280 million Capital One Bank headquarters in Fairfax VA and the $62 million renovation (phase 4) of the U.S. Department of Commerce Building in Washington DC.
Hotel construction in September increased 19%, aided by a $140 million resort hotel in Rohnert Park CA.
Warehouse construction grew 18% with the boost coming from large warehouse projects in Graham NC ($125 million) and Cranbury NJ ($95 million)
Manufacturing plant construction in September increased 23%
Store construction was down 6%
Garages/service stations were down 34%.
Residential building, at $236.9 billion (annual rate), dropped 11% in September.
Multifamily housing, which has shown some volatility on a month-to-month basis, plunged 30% from its August amount. There were just two projects valued at $100 million or more that reached groundbreaking in September – a $132 million apartment building in New York NY and a $119 million residential tower in Seattle WA. This compares to 8 multifamily projects valued at $100 million or more that reached groundbreaking in August, and 16 such projects that were entered as July starts.
In September, New York NY continued to be the leading metropolitan area in terms of the dollar amount of multifamily construction starts, but after reaching a peak in June, New York's multifamily activity has retreated. New York City's 421-a tax abatement program, which provided developers of rental housing with partial tax exemptions for up to 25 years, expired in June and led to a surge of multifamily construction starts prior to its expiration.
Through the first nine months of 2015, the top five metropolitan areas ranked by the dollar amount of multifamily starts were:
New York NY
Miami FL
Los Angeles CA
Washington DC
Boston MA.
Single family housing in September receded 3%, slipping back after its 2% August gain. The September pace for single family housing was still 10% higher than the average monthly amount reported during 2014.
By geography, single family housing in September showed declines for all five major regions – the South Central and West, each down 1%; the Midwest and Northeast, each down 2%; and the South Atlantic, down 7%.
Nonbuilding construction in September increased 5% to $133.9 billion (annual rate), making a partial rebound after dropping 12% in August.
Electric utility and gas plants provided the upward push, advancing 19%. Large electric utility projects reported as September starts included the following – two solar power projects in Utah, valued at $1.2 billion and $729 million respectively, a $320 million transmission line project in New Jersey, and a $200 million biomass energy plant in Georgia.
Public works in September were unchanged as a group from their August pace, due to varied behavior by project type.
River/harbor development climbed 29% in September, reflecting two projects in Savannah GA – $134 million for dredging the harbor entrance channel and $100 million for harbor expansion.
Water supply construction climbed 12% in September
Highway and bridge construction edged up 1% with the help of an $85 million deck rehabilitation project for the Liberty Bridge in Pittsburgh PA.
Miscellaneous public works dropped 2% in September, although the latest month did include the start of a $303 million automated people mover system at Tampa International Airport.
Sewer construction in September dropped 23%, following its 21% hike in August.
The Year so Far
The 12% increase for total construction starts on an unadjusted basis during the first nine months of 2015 came from growth for residential building and nonbuilding construction, while nonresidential building was down moderately after posting a substantial gain in 2014.
Residential building climbed 17% year-to-date, with multifamily housing up 26% and single family housing up 13%.
Nonbuilding construction year-to-date jumped 35%, with electric utilities and gas plants up 205% and public works up 4%. The considerable year- to-date increase for nonbuilding construction has become smaller as 2015 has proceeded.
Nonresidential building year-to-date retreated 7%, due primarily to a 30% plunge for the manufacturing building category. The commercial building and institutional building groups were essentially unchanged year-to-date, registering slight 2% and 3% declines respectively.
By major region, total construction starts during the January-September period of 2015 revealed this pattern – the South Central, up 24%; the Northeast, up 22%; the South Atlantic, up 9%; the West, up 4%; and the Midwest, up 2%.