Posted November 5, 2015
Simpson Strong-Tie to showcase products at STAFDA
Titen HD anchors, Strong-Drive structural fasteners and Quik Drive auto-feed screw driving systems take the stage.
---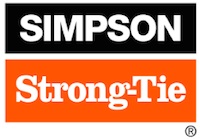 Simpson Strong-Tie will feature its Titen HD anchors and Strong-Drive structural fasteners as well as demonstrate Quik Drive auto-feed screw driving systems at STAFDA in Phoenix, Nov. 8-10. Simpson Strong-Tie will be located at booths #811-813, #816-818 and #846-848.
Anchor Systems Booth #816-818
The Anchor Systems booth will feature the newly redesigned Titen HD 1/4" screw anchor, which has all the features of the original Titen HD plus optimized thread geometry. Titen HD screw anchors offer optimum performance in both cracked and uncracked concrete, as required by the 2012 IBC for post-installed anchors.
The self-undercutting, non-expansion characteristics of the Titen HD anchor make it ideal for structural applications, even at reduced edge distances and spacings. It is recommended for permanent applications in dry, interior, non-corrosive environments or temporary outdoor applications.
Fastener Booth #846-848
The Simpson Strong-Tie Fastener booth will showcase several Strong-Drive structural fasteners. The new Strong-Drive SDWH Timber Hex-HDG screw is a fast, easy-to-install fastener that replaces bolts, washers and nuts in piers, boardwalks, structural pilings and docks. It requires no pre-drilling and is specifically designed to resist severe corrosion levels in heavy-duty marine and coastal applications.
The new Strong-Drive SCN and SCNR Connector nails are pneumatically driven alternative to hand-driven 8d, 10d and 16d nails. They are designed for connector applications in interior, exterior, dry-service or corrosive environments.
Strong-Drive WSNTL Subfloor screws are ideal for fastening subfloor, sheathing, sill plate and stair applications using the Quik Drive auto-feed screw driving system. With withdrawal and pull-through values that exceed those of 10d nails, the holding power of WSNTL screws reduces the gaps between the joist and subfloor that cause floor squeaks.
Quik Drive auto-feed screw driving systems help save contractors time and expense on jobsites every day. The tools are easy to use, durable and come with an extension that enables stand-up-and-drive fastening. Featuring quick-loading screw strips, precise countersink adjustment and a patented auto-advance mechanism, they are designed to be fast, reliable and more cost-effective than traditional nail guns.
The Quik Drive BSD200S Structural Steel-Decking System comes with a Precision Placement nosepiece that allows for easy location of the holes in standing seam metal roofing clips.
Bosch Alliance Group Booth #811-813
Simpson Strong-Tie and Robert Bosch Power Tool Corp. are a powerful team bringing the concrete construction market field-proven anchor and tool solutions for infrastructure, commercial and industrial markets. Several product demonstrations will be featured at the show as part of the ongoing strategic alliance Simpson Strong-Tie has with the Robert Bosch Tool Corp.
For more information, visit www.strongtie.com.