Posted November 11, 2015
STIHL dealers raise $67,000 for veterans with traumatic brain injury
Donation is largest single donation in Resurrecting Lives Foundation history.
---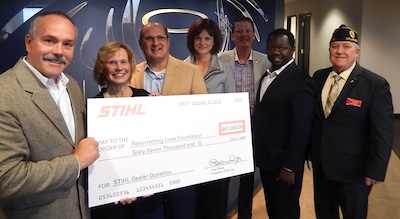 On behalf of the more than 8,500 STIHL dealers nationwide, STIHL Inc. recently presented a check for $67,000 to the Resurrecting Lives Foundation (RLF), a nonprofit focused on raising money to assist Veterans with Traumatic Brain Injury (TBI).
"This donation is the single largest contribution our foundation has ever received, and will make a real impact on our work," said Chrisanne Gordon, founder and executive director of Resurrecting Lives Foundation. "We are so grateful to the STIHL dealers for their generous support to help our returning Veterans."
Participating STIHL dealers raised money through stock purchases of American-made Resurrecting Lives Foundation shirts and caps through the STIHL OUTFITTERS™ program, the apparel line for STIHL.
"2015 was the first year for the program and we were extremely happy with the results," said Mike Haney, merchandising specialist for STIHL Inc. "Next year we will further expand our marketing support for the campaign."
Resurrecting Lives Foundation assists in the recovery and reintegration of Veterans of Operation Iraqi Freedom and Operation Enduring Freedom who are suffering from Traumatic Brain Injury (TBI). Due to cost constraints and logistics, TBI treatment teams are not available in the majority of Veterans Administration centers and outpatient clinics serving Veterans.
"STIHL is honored to help the Resurrecting Lives Foundation connect Veterans with the support they need and make a difference in the lives of these American heroes," said Nick Jiannas, vice president of sales and marketing for STIHL Inc.
The donation was presented to the Resurrecting Lives Foundation board of directors on Oct. 23, 2015 by Crader Distributing Company President and RLF Board Member, Stan Crader, at the ViaQuest headquarters in Dublin, Ohio.
The gift from STIHL dealers will help Resurrecting Lives Foundation continue to be an organizing force for collaboration between the military, Veterans Administration and civilian worlds to promote health care, employment and education for America's returning heroes.
For more information about the Resurrecting Lives Foundation, visit www.resurrectinglives.org.