Posted November 16, 2015
Metabo announces sale to Hitachi
Deal could have far-reaching implications for both brands.
---
---
Hitachi Koki Co., Ltd. has announced that it will acquire 100 percent ownership of Metabo Aktiengesellschaft, headquartered in Nurtingen, Germany.
One of the leading power tool groups takes over long-standing Nürtingen company from financial investor Chequers Capital
With this transaction Metabo will become part of Hitachi Koki Co., Ltd., a subsidiary of the Hitachi Group.
Headquartered in Tokyo, Hitachi Koki generated sales revenue of over EUR 1 billion with a global workforce of around 5,000 in 2014. In the same year, Metabo achieved sales revenue of EUR 374 million and had 1,800 employees worldwide.
"We've been approached by a large number of highly prestigious companies in recent months, but we felt that none of the others offered such good opportunities for combining the best of both worlds," says Horst W. Garbrecht, CEO of Metabo AG. "We're therefore delighted that in Hitachi we've found the ideal partner for Metabo."
The transaction still needs to be approved by the antitrust authorities.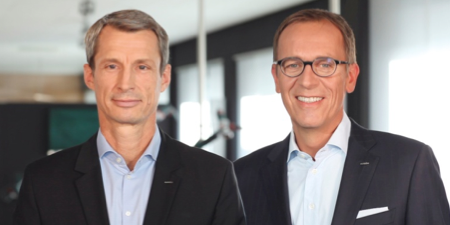 The Metabo Executive Board team, including CEO Horst W. Garbrecht (right) and CFO Eric Oellerer, will remain on board and Metabo will continue to operate as a distinct business entity.
"As we see it, Metabo is a perfect fit for us because the two companies complement each other extremely well in all kinds of ways," explains Osami Maehara, CEO of Hitachi Koki. "We consider this to be a kind of marriage. Our explicit goal is to grow significantly in Europe and acquiring Metabo brings us a big step closer to achieving this.
"We have the greatest respect for outstanding results the Metabo team achieved in recent years. We will therefore not only retain Metabo as a distinct brand, but also run the business as a company within the company and allow it the necessary independence to continue this success in the future," Maehara adds.
The priority for Garbrecht is to combine Metabo's strengths with the typical benefits of a large organization such as economies of scale in procurement, complementary market presence, a closely integrated logistics and sales network, and significant research and development resources.
Garbrecht feels this offers excellent prospects for Metabo and the close collaboration within the new corporate network also delivers significant benefits in areas such as motor development and the further development of battery technology.
Nürtingen site offers proximity to European markets
Metabo's facility in Nürtingen, Germany, offers Hitachi an ideal base for expanding into European markets, with development, product management, production and marketing operations under one roof.
According to Maehara, Hitachi will retain the entire workforce and management team under the leadership of CEO Horst W. Garbrecht and CFO Eric Oellerer. The Nürtingen site offers Hitachi excellent possibilities to get closer to the European markets, with development, product management, production and marketing operations under one roof.
According to the CFO Eric Oellerer, the takeover by Hitachi represents a great opportunity.
"In the past, we played our strengths as a midsize structured company to compensate the advantages our larger competitors have over us. We've had numerous detailed discussions with our counterparts at Hitachi about this. We're in agreement that it's vital to maintain these strengths – such as flexibility, short and fast decision-making, boldness and a high rate of innovation. What's more, becoming part of Hitachi is an excellent way of overcoming the previous size-related disadvantages. This possibility to combine these advantages makes Hitachi the ideal partner for Metabo," Oellerer explains.
A continuing focus on cordless applications
Garbrecht went on to say that a key factor in this respect was that both Hitachi and Metabo have been focusing on the promising cordless power tool segment for many years. Hitachi has a wide range of cordless products and a strong 18 volt platform including a high end electronic system and brushless technology.
At the same time Metabo has become the technology leader in cordless technology and has reached a strong position in Europe with a number of world firsts such as its recent extremely powerful LiHD technology.
"I firmly believe that the future of all power tool manufacturers lies in cordless applications and, with Hitachi at our side, we couldn't be better placed," stresses Garbrecht.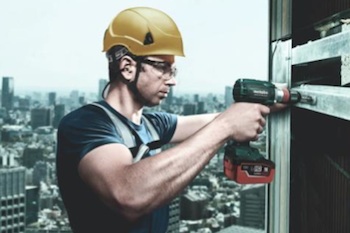 Metabo has built a reputation for technological leadership in the cordless category and a strong position in Europe with a number of world firsts, such as its recently introduced LiHD technology.
In his opinion, the two brands complement each other extremely well overall. Hitachi is one of the leading companies in its home market of Japan and overall has a very good market position in the Asia-Pacific region, which is enjoying strong growth. Metabo on the other hand generates the biggest part of its sales revenue in Europe.
As for the various sectors of industry, the excellent reputation of Hitachi's heavy-duty hammer drills puts it in a strong position in areas such as construction, while Metabo is particularly well placed in the metal industry, and also in the building renovation trades. Garbrecht explains that this impressive complementarity extends to many different product groups. Hitachi enjoys a strong reputation for high-quality, durable pneumatic tools and nailers, plus the company boasts a large, innovative portfolio of outdoor machinery.
Chequers Capital sees takeover as great opportunity for Metabo
Metabo's future owner Hitachi Koki will follow financial investor Chequers Capital, which became the majority shareholder of the renowned traditional Nürtingen-based company in June 2012.
"We see our role in supporting and further developing our companies in close partnership with their management teams during our period of involvement and then ultimately placing them into good hands that will ensure their long-term future success. The sale to Hitachi not only gives Metabo a secure, strategic home, but also a bright perspective for the future," explains Dr. Karsten Hartmann of Chequers Capital.
According to Hartmann, selling after just three years was only possible due to Metabo's strong growth trajectory since the investment – mainly based on a brand with global reach and appeal, as well as on research and development work that is unrivaled in the industry.
"From day one we had high expectations of Metabo and great confidence in the brand and company, both of which have since been vastly exceeded," adds Dominik Schwarz of Chequers Capital.
"Metabo's management team and entire workforce have done an outstanding job and we would like to thank them for their dedication and hard work. We are proud to have been part of this exceptional development over the past three years. While we very much regret that this cooperative and productive partnership is now coming to an end, we are convinced that Hitachi offers a fantastic opportunity for Metabo and its employees," Schwarz concludes.
The deal is raising intriguing questions about the future of Metabo's U.S. presence, particularly in light of Hitachi's distribution agreement with Lowe's. In recent weeks, Lowe's stores across the country have begun showing end cap displays of Metabo products including grinders, drills and miter saws.