Posted January 4, 2016
Exclusive: Install-A-Door Door Holder
New tool shaves time and effort from door installations.
---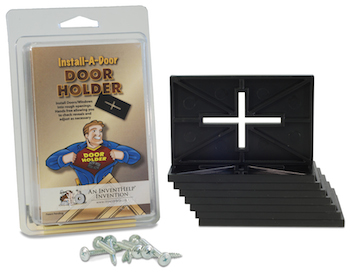 Surrounded by more than 160 wineries and an area recognized by CNN/Money as "one of the top 10 best bets for gains in housing value," Murphey's Construction has established a reputation for quality workmanship throughout Prosser, Yakima Valley and the Mid-Columbia Region of Washington State over the past two decades.
Since 1992, this has included countless residential repair and renovation projects as well as the building of more than 40 high-end, custom homes averaging in the $400,000 range.
"Everything is word of mouth," says Ryan Murphey, the company's vice president for the past 10 years. "All of our work comes through referrals. So, our efforts from the ground up must stand for themselves. This includes the quality of our finished interior trim work and attention to detail, which approaches every job as a custom project. Nothing but perfection is tolerable."
Always looking for a better way, Murphey became intrigued with the Install-A-Door Door Holder after meeting with Dan Baldwin of Altered Places Construction in Prosser, Wash. several years ago. A general contractor who also dabbles in building product innovations, Baldwin designed Install-A-Door as an extra set of hands for installing interior doors for residential or commercial applications. After years of experimenting, the kit was introduced as a reusable tool that holds interior doors in place, while one individual makes all the necessary adjustments.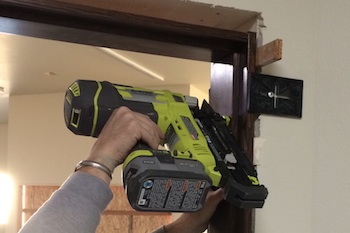 "Install-A-Door just made sense once I saw it action," offers Murphey. "I've hung hundreds of doors since I've started using the tool and in each case it easily saved me about 10 minutes. Plus, it works equally well with all types of doors – double doors, solid or hollow core – it doesn't matter."
"It's just like having another set of fingers acting as a counterweight so doors don't shift in or out. The results have also been perfect every time."
Developed for both contractors and do-it-yourselfers, Install-A-Door enables users to install doors in their rough openings without assistance. The kit consists of eight reusable holders and screws from Screw Products, Inc.
To install a door, users need only place four holders on the stop side of the rough opening and four holders on the hinge side. The door and frame are then placed into the rough opening. After centering the door, users simply only need to make adjustments and shim without the assistance of others. When all the shims are level, the holders are removed and the door is trimmed out. This is typically performed in half the time of traditional installations.
"This is a product anyone can use by themselves," explains Baldwin. "It's designed for everyone and to last for years. In addition, I've been doing general contracting for decades and these are best screws I've ever used. They never slip, strip or break. Everything about this kit was developed for long-lasting, quality results."
"I'm pretty much an expert at installing doors," adds Murphey. "I've done so many over the years. But, Install-A-Door never fails to shave time off my installations, which is invaluable when you're performing multiple tasks at once and by yourself. I especially like that the product is reusable. I've used the same kit over and again and never had a problem. When I'm done, I just put it in my toolbox and wait for next installation."
The Install-A-Door Door Holder is available through Screw Products, Inc. Please visit www.screw-products.com or call 877-844-8880 for more details.

Screw Products, Inc. offers interior and exterior fastening solutions for deck, construction lags, general purpose, drywall, cabinetry and finish work. This includes both DeckLok and RailLok, the ultimate patented lateral anchoring systems with newly updated ICC approvals.