Posted February 15, 2016
MAX launches YouTube video channel
New channel showcases MAX pneumatic and rebar tying tools in action.
---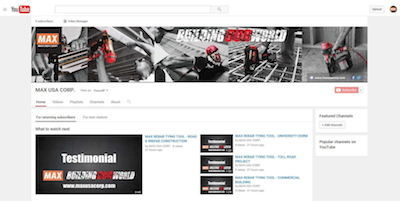 MAX USA is proud to announce its new YouTube Channel! The exciting new YouTube Channel features testimonial videos from end users of MAX 100-psi, 500-psi and world-famous Rebar Tying Tools.
Visit the new channel on YouTube and you will see why MAX has earned a solid reputation for engineering top-of-the-line building tools that are designed to last a lifetime.
MAX USA CORP. is headquartered in Mineola, NY, and is owned by MAX CO., LTD. which is headquartered in Tokyo, Japan. MAX is recognized as a market leader in quality manufacturing of tools for over 70 years. MAX has several divisions employing more than 2,000 people worldwide including 200 R&D engineers.
Visit the new channel at www.youtube.com/channel/UCs-PUH-TafEC4BbuIouqVJw. Please also visit www.maxusacorp.com.