Posted February 24, 2016
AMES companies launch new global and regional websites
New sites unify company image and build on company's heritage to 1774.
---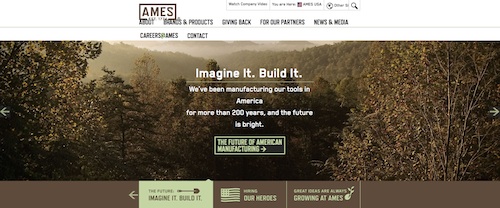 The AMES Companies, Inc., is pleased to announce the launch of four new websites: one for its global presence (global.ames.com) and three for individual regions, including the United States (us.ames.com), Canada (ca.ames.com) and Australasia (au.ames.com).
The new sites provide visitors with all new content and imagery tailored to the company's heritage, markets, customers and operations in each region. AMES' roots reach back to 1774 in America, and the new sites reflect the growth and global reach of today's company.
"As a global company, we serve different regional markets around the world, and it's important to provide customers, suppliers, employees and potential employees in each region with personalized experiences so they can easily find the information they need," said Eric Bernstein, vice president of marketing and product development for The AMES Companies. "The AMES Companies has a history stretching back to 1774, and as we continue to build on that legacy today, we remain committed to moving forward with innovative resources."