Posted April 6, 2016
Bosch GTS1041A REAXX table saw is coming in June
Long-awaited saw takes safety to the next level and also saves the blade.
---
Bosch Active Response Technology delivers flesh-detecting technology to help reduce potential user injury.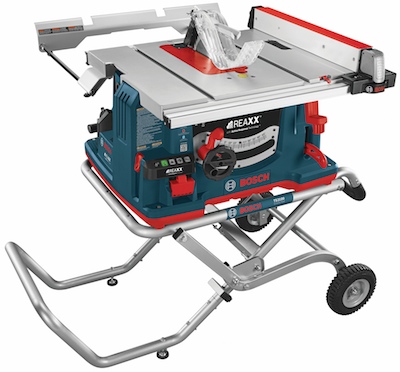 Safety comes first on any construction jobsite, especially regarding a table saw where a momentary lack of focus could have permanent consequences.
Bosch extends its heritage of award-winning table saw design with the introduction of the REAXX Jobsite Table Saw – the first saw with the company's proprietary flesh-detecting Active Response Technology.
The Bosch Active Response Technology platform helps reduce the risk of injury to users by combining advanced Bosch sensors and electronics with mechanical injury-prevention systems. The Active Response Technology system on the REAXX table saw detects human flesh that comes in contact with the blade and rapidly drops the saw blade below the tabletop. This high-speed action helps reduce the potential of serious user injury.
Fast Reset That's Quick and Easy
After activation, the system can be reset in less than 60 seconds. A dual-activation cartridge enables activation for two incidents before replacement is needed; just rotate the dual-activation cartridge and reset the drop mechanism and the REAXX table saw is ready to go without damaging the blade. All necessary parts, instructions and wrenches are located onboard the saw, including storage for extra dual-activation cartridges.
"The REAXX Jobsite Table Saw is not a reinvention of the table saw category. Actually, the REAXX saw builds on the Bosch heritage of precision cutting tools and adds an extra layer of user safety," said Jim Stevens, product manager, Robert Bosch Tool Corporation. "Bosch is a leader in the portable table saw market, and it makes sense that the REAXX Jobsite Table Saw incorporates great precision with the latest user interface and injury mitigation technology."
The Bosch REAXX on-board control system is an intuitive, easy-to-understand LED light panel that communicates and manages saw operation and indicates saw status.
Green means the saw is ready for use
Yellow means the saw is in bypass mode and will not react to blade contact; this mode can be used for cutting conductive materials that could potentially activate the Active Response Technology system
Red means the saw is not ready and will not function until the user corrects an issue
Blue light means the saw requires service
Users can access a REAXX Android phone app, which uses near field communication (NFC) to provide saw registration, saw status and troubleshooting steps, lockout options, performance information, number of activations remaining and service requirements. In addition, an iOS™ phone app is available that provides information about saw registration and troubleshooting steps.
Legendary Bosch Table Saw Capability
Like all Bosch table saws, the Bosch REAXX saw includes a modular blade guard, the Smart Guard System. This primary safety device provides a physical barrier between the user and the saw blade, as well as offering protection against kick-back. Active Response Technology is integral to the REAXX Jobsite Table Saw and is intended to be used with the Smart Guard System to provide the operator with an added level of protection.
Bosch REAXX has a 15-amp, 4.0-hp-max motor that generates 3,650 rpm. It's jobsite ready because it works with onsite generators for a truly portable solution for mobile trade professionals. Cutting varied materials requires maximum horsepower and excellent cutting speed. The Bosch REAXX Jobsite Table Saw offers these attributes along with electronic control soft-start, constant response electronics and overload protection. Advanced electronics reduce the intensity of motor startup and maintain cutting speed under load.
Bosch REAXX is able to cut most non-conductive materials, including trated lumber without excessive water content.
Additional precision features include an optimized rail system that boasts a pre-squaring SquareLock Rip Fence, which is engineered for precision. Prior to locking, the fence glides along the rail and locks into place for solid and consistent cutting performance.
The table is sturdy cast aluminum sized to rip up to 25" on full-sheet materials (4 ft. x 8 ft.); an on-board rear outfeed support provides an extra 18" of support for longer workpieces. A rugged sub-base is built to withstand daily abuse related to transport, storage or jobsite conditions.
Easy Transport on Any Jobsite
This full-featured jobsite table saw can be easily transported to and from the job thanks to the Bosch Gravity-Rise Stand, which sets up in seconds. The stand includes 8" treaded wheels and is sized for easy pickup truck loading or unloading.
The Bosch REAXX Jobsite Table Saw will be available June 1, 2016. To learn more about REAXX, visit https://www.boschtools.com/reaxx. To learn about other Bosch products, visit www.boschtools.com or call 877-BOSCH-99.