Posted April 7, 2016
Festool announces national Roadshow tour dates
Tour runs from Charleston to San Diego, with more U.S. and Canadian dates to be added.
---

Festool USA has just announced its first-ever product tour schedule, the Festool Roadshow, which will be powered by a 48-foot truck making numerous stops throughout the United States in 2016 with Canadian tour stops being added later in the year.
The tour has been designed to give craftsmen across North America a first-hand look at everything that's currently available — and upcoming — with Festool.
Widely regarded as the superior brand among remodelers, carpenters, cabinet makers, furniture builders and painters, the Festool Roadshow will be showcasing recent product introductions and future product previews as well as a broad range of Festool's award-winning product line.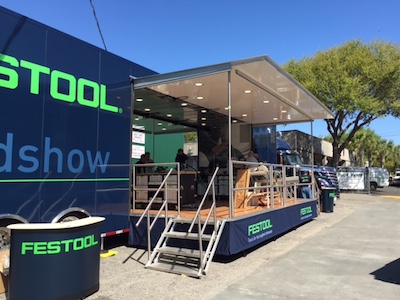 "The Festool Roadshow is our way of taking our professional tool solutions out into the marketplace, where craftsmen can experience first-hand, how to do their jobs better and in less time," says Steve Rangoussis, Chief Sales and Marketing Officer, Festool USA. "We understand that because our products – and the Festool system approach - simply do things that others cannot, it's important to give users the opportunity to see them demonstrated."
The Festool Roadshow will give many professionals the opportunity to experience:
VAC SYS System: Introduced earlier this year, the VAC SYS provides proven, vacuum-based suction clamping and is a highly effective and ergonomic work platform for nearly any project. Effectively clamp material or a workpiece for effortless machining and finishing while protecting delicate surfaces from clamp damage.
Dust Extractor CT SYS: Available May 1st, the CT SYS is ultra-portable and compact, yet loaded with features such as Full Unit HEPA Certification, tool-triggered operation, high-performance suction, and Systainer integration. The CT SYS is ideal for remodelers and painters who need the utmost in portability, yet without compromise in function
Festool's line of award-winning tools: From the TSC Cordless Tracksaw, Conturo Portable Edgebander, ETS EC Brushless Sanders, PDC QuaDrive Drill and Domino Joiner to the entire line of CT HEPA Dust Extractors.
Festool Roadshow begins this week in Charleston and West Columbia, SC, and continues on to GA and throughout the United States. For a complete schedule through the first half of 2016, go to
http://festoolusa.com/roadshow/
- additional tour dates will be added in the coming weeks.
Founded in Germany in 1925, Festool is known for its innovative, precision-engineered power tool solutions. Based in Lebanon, IN, Festool USA offers a comprehensive lineup of power tools and system accessories, designed to boost productivity through efficiency and high performance. For more information, visit
www.festoolusa.com
.