Posted May 10, 2016
Festool USA releases "Finish Line" magalog for professional painters
Includes articles on training, surface prep, techniques and product catalog.
---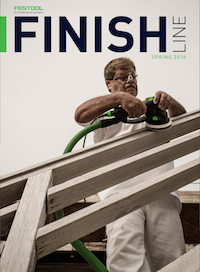 Festool USA has just released the Spring 2016 issue of "Finish Line" for professional painters.
Available via download at no charge, "Finish Line" features customer profiles of Queen Anne Painting in Seattle, WA and Sergio Mendez Painting of Malibu and Bel Air, CA.
The 64-page magalog covers a host of application- specific product information that spans training, service preparation and customer service.
The Spring 2016 issue of "Finish Line" features:
Perfecting the Surface – A case study of the path to success featuring Queen Anne Painting of Seattle, WA
Build it Better Together – How training has become and even more crucial element of a successful painting business
Crafting a Passion – Sergio Mendez of Malibu and Bel Air, CA discusses reliability, longevity and the importance of keeping a clean jobsite and tool inventory
"Finish Line" also covers a wide-range of information on Festool tools and specific application information. Going far beyond a product catalog, it provides a resource for professional painters who are looking for tools and techniques that will help them be more profitable.
For more information, visit www.festoolpaint.com.